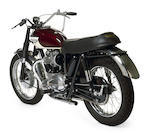 1967 Triumph TT Special
Frame no. T120TT DU54226
Engine no. T120TT DU54226
Originally conceived for the 1963 model year, by west coast distributor Bill Johnson of Johnson Motors, the TT was a high performance, factory race bike, stripped down and performance tuned to fill the niche markets of off-road racing. Modified Triumphs were already finding considerable success – flat track and TT's, scrambles, desert, hare and hound. In 1967, at the end of its limited production run, only 900 TT Specials were built.

Beginning with and improving upon their street legal motorcycles offered at the time, the Triumph factory racer came with higher compression pistons, hotter camshafts and a high output ignition system, to produce 54hp at 6,500 rpm. Closer ratio gears were installed in the four speed gearbox, chain drive sprocket ratios were altered, and larger diameter exhaust pipes were tucked under the frame, without mufflers. Aluminum, or more durable stainless steel fenders replaced the street items. Lights, fork lock and speedometer were deleted and only a tachometer was fitted. The forks received special springs and internal valving. These stripped down bikes weighed 350 pounds, some 30 pounds lighter than the stock configuration.

To further differentiate the TT from the street models, the Bonneville-derived 2 ½ gallon fuel tanks came with special paint schemes. For 1967 the colors were aubergine over either gold or white, pin-striped in gold by hand.

The TT Special offered here was originally purchased by Raymond L. Dillard of Boise, Idaho from local dealer, Buzz Chaney Motorcycles, and kept in his collection until 2002. it was then purchased by Michael Anderson of McCall, Idaho, who intended to restore it to an identical spec of the bike he had raced at Ascot Park in 1967. Regrettably, Mr. Anderson never completed the restoration, and sold it to the vendor in 2006.

While the bike showed evidence of use, everything was complete. Even all the original fasteners remained in their antiquated Whitworth sizes. Everything was disassembled to begin a complete restoration of the bike to original "as delivered" specification.

Every component was completely dismantled and professionally cleaned. The frame and all painted bits were media blasted to bare metal. The frame, fork lowers, rear hub and swingarm were then powder coated in black.

The tank, side cover, oil tank and chain guard were sent to Joe Cook, of Fair Oaks, CA for paint. The gas tank was redone in original colors, aubergine over white. The other components were sprayed in black lacquer. The hand pin striping was performed by "Mike the Stripe" of Sacramento, CA.

All items that came chromed from the factory, were rechromed, while aluminum side covers were professionally polished. The wheels were rebuilt with stainless spokes and new nipples, while proper Dunlop K-70 tires were installed.

The engine was rebuilt, using all new seals and gaskets with modern sealants, and new main and rod bearings were utilized. The original Amal Monoblock carbs were refurbished. The cylinder was bored to accept new Hepolite OEM pistons in 12.5:1 at 0.60 over. The transmission was treated to new bearings and seals. The front forks received new fork tubes, bushings and seals and the rear shocks were replaced with new Girling replicas. The original seat pan was powder coated and new seat foam was recovered with an aftermarket replica of the original twin seat. The original stainless steel front fender was retained. The rear fender is an aftermarket unit. Aftermarket TT pipes were installed to replace the well-used originals. All rubber and plastic seals, grommets, retainers and hoses are new. Offered in fresh restoration condition, the motorcycle is yet to be started and run.

Upon completion, it was entered in the 2010 Clubman's All-British Motorcycle Show in San Jose, CA where it won First Place in its class, Production Division -- Flat Track/TT/Speedway.