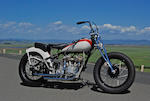 Ex-Wallace Akins, second-place bike in the 1940 Daytona 200
1939 Indian 45ci Sport Scout
Frame no. 639-129
Engine no. FCI-129
Provenance lost is a terrible thing, but provenance found is doubly rewarding. That's exactly what happened with this motorcycle, a 1939 Indian Sport Scout that crossed the block at Bonhams' Quail Gathering auction last year. Since then the new owner has researched the bike's history and rejoined it with paperwork, memorabilia and photographs that prove this very machine was raced in the Daytona 200 on four occasions, finishing as high as a fine second place in the race's 1940 running.

The original owner/racer was Wallace Akins, an AMA regular who entered the bike in four Daytona 200-milers, 1940, '41, '47 and '48. Akins overhauled the engine after the 1948 season, apparently in preparation for the next Daytona Speed Week, but the bike would never be ridden in anger again. In fact, it was almost a half-century before the Indian moved from Akins' garage, when he decided it was time to sell the old racebike. Soon after, the rusty machine was treated to a restoration, including new gas tanks painted in a similar scheme to Akin's but with red stripes instead of black for a bit more panache. The original gas tanks were preserved as were the bike's old racing number plates and its handlebars. At some point in the ensuing years, however, the Indian was separated from its artifacts, photos and paperwork. Effectively, this important motorcycle's history was lost.

No longer. Included in the sale are those original fuel tanks, number plates and handlebars, plus documents, photographs and old Daytona 200 programs. The current owner recently had the engine's top end opened up for inspection, at which time it was discovered that Akin's 1948 overhaul was still fully up to spec. It was then buttoned back up and the bike was taken to Sears Point raceway where we're told it circulated at speed with no problems whatsoever.