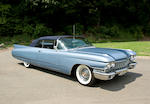 1960 Cadillac Series 62 Convertible
Chassis no. 60F078987
With their jet fighter styling, glitzy chrome trim, color-matched interiors and jukebox instrumentation, Cadillacs of the late '50s/early '60s epitomise an era when nothing succeeded like excess. Their over-the-top tail fins remain controversial even today. By the late 1950s Cadillacs incorporated new X-braced tubular chassis frames that increased structural rigidity while making possible lower body lines without loss of interior space; although hardly any larger than before, these restyled and low-slung Caddies looked bigger, which was all that mattered. They also sported fashionable tail fins. General Motors' chief stylist Harley Earl had introduced fins on the 1948 Cadillacs and the device would reach its zenith in 1959.

For 1960 the fins were toned down just a little and the overall look was slightly more restrained. Base model Series 6200 cars came with power steering, power brakes and automatic transmission as standard, while the DeVille Series 6300 offered power windows and seats in addition.

The subject automobile was acquired by the present owner at auction and had previously resided in Florida with one owner for many years, it is thought possibly even from new. It carries the 390 ci, four barrel carburetor setup. A few years ago the car received a comprehensive restoration of its cosmetics, with the paintwork redone to a high standard in the beautiful and original color way of Hampton Blue and at the same time the interior was refurbished with correct pattern material in matched blue and a new dark blue top was fitted. Various invoices are with the car for this work. Today this has aged lightly and particularly beneath the hood the engine bay is clean but would benefit from detailing which would lift the overall presentation of the car.

Set on new wire wheels with wide wall radial tires, and the period options of electric seats and autronic eye, it also comes with an original jack.
Saleroom notices
Please note that this vehicle is titled under its engine # 60F078987.