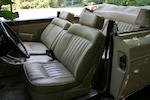 38,850 miles from new
1987 Rolls-Royce Corniche II Convertible
Chassis no. SCAZD42A0 HCX 16889
Engine no. 16889
The Rolls-Royce Silver Shadow was a landmark car in the history of Rolls-Royce being the Crewe factory's first unitary-construction model. The stylish and pricey two-door drophead version, finished by Mulliner, Park Ward in London, was introduced in 1967 and from 1971 became known as the Corniche, a name previously used by the company for a prewar exclusive Bentley prototype which never went into production. The well tried aluminum V8 engine was adopted, displacing 6,750cc, driving through a Turbo Hydramatic 400 three speed automatic gearbox sourced from General Motors. For the Corniche model power output was enhanced by about 10%, providing greater torque and giving the car a top speed on the order of 120mph. The independent coil spring suspension provided the smoothest of rides, complemented by a hydraulic self-leveling system to the rear. Perceived early shortcomings in the braking department were eliminated in 1972 with the introduction of ventilated disc brakes. Minor enhancements for the Corniche II of 1977 included alloy and rubber bumpers, an aluminum radiator, the addition of an oil cooler and, for the North American market, a driver's airbag.

The example presented here was supplied new in the New York area and according to its service book was initially serviced at Rallye Motors. It was acquired by the vendor two years ago from the car's third owner. It has since received both refurbishment work and regular maintenance, but its has been used sparingly, spurring the sale of the machine. Some bills are on file for recent work carried out by Champion Motor Service of Jericho, NY and the Rolls comes with its original handbook/manual and service folder, all of which supports its modest mileage. As well as these it retains its tool kit, decanters, glasses and a wine opener.

Offered in its original livery of Magnolia paint, which has been entirely repainted in the present ownership, this is complemented by its original beige top and leather trim. A Bonhams specialist test drove the car at the time of the catalog photography and found that it started promptly and drove well. The only apparent defects to the car were that the end of the cruise control button stalk is missing and the trunk has some light staining. In preparation for its sale, the car will be freshly detailed.