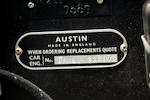 1955 Austin-Healey BN1 Roadster fitted with 100M kit
Chassis no. BN1L 223573
Engine no. 1B 214732
Donald Healey's stylish Austin-Healey 100 caused a sensation when it debuted at the 1952 London Motor Show. Intended as a low-cost high-performance sports car and aimed at the US market, which took almost 100% of production initially, the Austin-Healey 100 sourced its major components from the Austin Atlantic saloon. Low-revving and torquey, the latter's 2,660cc four-cylinder engine produced an unremarkable 90bhp but when installed in the lighter and more streamlined Healey the result was a genuine 100mph-plus car capable of reaching 60mph in under 11 seconds. A three-speed gearbox equipped with overdrive on the top two ratios was an unusual feature of the original BN1, which was superseded by the short-lived, conventional four-speed BN2 for 1956. A muscular sports car to delight the purist, the 100 was not bettered by its six-cylinder successors in terms of outright performance until the introduction of the Austin-Healey 3000 in 1959.

The 100M introduced in 1955 featured modifications from the Works Le Mans cars of 1953 including upgraded carburettors, larger dampers and a special louvered bonnet for more effective cooling. The 100M claimed a top speed of 109mph and a massive 120mph with the screen flat. These attributes were frequently added to standard 100 cars, some by the factory and many since, this being updated at the choice of its current owner.

In the present ownership for the last 16 years, the car has undergone considerable work and expenditure in this custody at the hands of specialist Michael Gebbia here in Connnecticut. The body, engine and transmission were all completely restored and/or rebuilt with parts coming from either new/old stock sources, from other cars or known suppliers such as Moss Motors. The elegant paint scheme of black with red interior was chosen for the aesthetics, which is made more sporting by the deletion of front bumpers, additional fog lights, its 'M' type louvred hood and hood strap as well as an aluminum external gas filler. Mechanically the car was enhanced with an aluminum head, electronic ignition and a four speed transmission with overdrive. Numerous bills for this work are on file as well as many photos of the restoration. Since this was carried out, less than 600 miles have been covered.

Our seller reports that while top irons are present, there are no top or side curtains, but these are items that are relatively easily sourced or made and the car does have a tonneau cover for protection of the interior. Eligible for the many prestigious historic motoring events, an Austin-Healey 100 is to many the purest of the series and this in such attractive livery and with 'M' additions is deserving of attention.