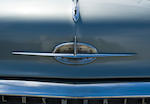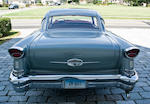 1957 Oldsmobile 88 Holiday Sedan
Chassis no. 57L11162
Held in the ownership of a single family since new, the offered 1957 Oldsmobile 88 Holiday Sedan's odometer shows 51,619 stated-to-be-actual miles. The vendor inherited this well-kept four-door hardtop Oldsmobile from her mother in 1971, and is knowledgeable of its past since delivery.

Oldsmobile history already spanned six decades by the time the brand's 1957 models were in vogue. The company had rejuvenated itself in the post-World War II era with the original Oldsmobile Rocket 88 of 1949, a game-changing car that introduced overhead-valve V-8 performance to the medium-priced American market.

The 1957 Oldsmobiles combined the largest displacement and most powerful Rocket V-8 engine produced to that point with longer, lower and sleeker styling inspired by General Motors Motorama show cars of the period.

Standard in all 1957 Oldsmobiles, the 371-cid "T-400" Rocket V-8 was rated at 277 horsepower—more than double the 135-hp rating of the original Rocket 88 V-8 introduced only eight years earlier. Featuring a four-barrel carburetor, the engine generated an impressive 400 lbs. ft. of torque—hence, its T-400 designation. This car's Jetaway Hydra-matic automatic transmission was in fact a $231 option in 1957; a rarely chosen three-speed manual transmission was "standard" in 88 and Super 88 models that year. The offered 88 is also equipped with optional power steering.

Oldsmobile styling for 1957, directed by legendary GM chief designer Harley Earl, was new, if evolutionary. The stance was lower, thanks in part to new, smaller diameter, 14" wheels. Overall length grew by nearly five inches. Closed styles, except station wagons, sported a unique 1957-only three-piece rear window.

The '57's integral front bumper/grille surround was derived from the 1953 Oldsmobile "Starfire" Motorama showcar, while the custom-car type 1957-only round parking lamps first appeared on a futuristic 1956 Olds concept car. At the rear, the fuel filler is concealed beneath the left taillight.

Pillarless hardtop styling was all the rage in the mid-1950s, and Oldsmobile was among the first to introduce four-door hardtop styling, in mid-1955. The popular pillarless four-door hardtop Oldsmobiles were designated "Holiday Sedans" by their maker.

The 88 Holiday Sedan interior was well appointed and colorful, and even the lavishly chromed instrument panel was color-coordinated to the overall interior scheme. The offered car's silvery gray exterior paint and red-filled bodyside moldings perfectly compliment its outstanding red and charcoal interior.

Appearing to be remarkably well preserved and exhibiting a high degree of originality, the 1957 88 Holiday Sedan presented here is a superb example of what is today a very rarely seen, historically important, and especially attractive "jet-age" American hardtop.

The Oldsmobile is offered with a Connecticut registration transferable to the new owner.