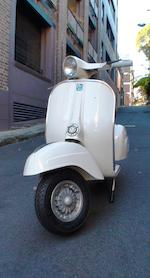 1967 Piaggio Vespa 150cc Scooter
Registration no. TBC
Chassis no. VNC1T021067
Engine no. VBC1M532138
Along with the rival Lambretta, the Piaggio-built Vespa mobilized an entire generation of Italians in the immediate post-war years, the humble scooter going on to become part of youth culture in the 1960s as favorite transport of the fashion conscious. The end of hostilities in 1945 had left a number of companies that hitherto relied on military contracts looking for alternatives, Piaggio among them. Forbidden by the Allies from resuming his aviation business, Enrico Piaggio instructed his chief designer Corradino d'Ascanio to design a scooter, for which he believed a potential market existed, particularly among women. d'Ascanio's aviation background meant that he was well versed in techniques of stressed-skin construction, and these were deployed in creating the Vespa's monocoque chassis, a revolutionary development at the time. The name 'Vespa' (wasp) is said to have been inspired by the buzzing sound made by its single-cylinder two-stroke engine. "Just like Henry Ford put the workers on wheels in America," Enrico Piaggio told Newsweek, "we put automotive transport within the reach of people who never expected to travel that way." Since its introduction in 1946, millions have been made and countless different versions come and gone, yet the Vespa of today remains recognizably related to the first one made 60 years ago. Classic? Most definitely.
This classic Italian Vespa started life as a 1967 125cc model and has recently undergone a complete restoration with a 150cc engine. The frame was taken back to bare metal, all mechanical components renewed and the trim replaced where necessary. Finished in crisp white, the scooter was last registered in 2000 and is now ready for the new owner to enjoy. To be sold with a pink slip if to be registered in NSW.