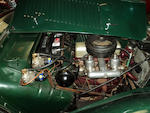 The ex-Louise Mandrell, fewer than 13,000 miles recorded
1953 MG TD/C
Chassis no. XPAG321183
Engine no. 21183
The postwar MG TC and TD introduced Americans to sports cars and "European Style" road racing. Relatively stock MG models filled racing grids across the country, and the 1953 TD/C model offered here is reminiscent of those early postwar sports car days.

The TD/C, commonly referred to as the Mark II, was a limited production, modified TD designed to satisfy demand for higher performance models. Special features included dual front Andrex friction shock absorbers, larger carburetors, larger valves, increased compression, twin fuel pumps, a higher performance ignition coil, as well as subtle visual cues which distinguished the TD/C from pedestrian TDs.

This example, one of a very limited number of left-hand-drive export TD/Cs produced, is a fantastic survivor, displaying fewer than 13,000 miles on its odometer and still wearing original paint, chrome, top and upholstery. The original spare tire is still mounted. Even the complete factory tool kit is included and shows very little use. It is believed to be one of the lowest-mileage TDs in existence. The vendor reports that this TD/C has enjoyed celebrity ownership, having previously been in the collection of country singer Louise Mandrell.

The TD/C was subject to an extensive mechanical recommissioning in 2007-08 with receipts in excess of $25,000 in the documentation file. The engine was comprehensively rebuilt at great expense, while other mechanical and hydraulic components such as the brake system, clutch and pressure plate were rebuilt or renewed. Fewer than 500 miles have been put on the car since this work was performed.

This remarkably preserved TD/C is a trip back in time; overall, it exudes a delightful patina indicative of meticulous preservation over the decades. One can imagine motoring in a tweed cap along a narrow country lane, or teeth clenched, accelerating hard down the front straight at Pebble Beach, the TD/C's XPAG 1250cc motor winding out to its increased 6000rpm redline. Whatever your fancy, this is surely one of the finest TD's we have ever come across.
Saleroom notices
Please note that the correct engine number is XPAGTD321183, and the correct chassis number for this vehicle should read TDC20796.