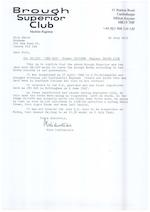 The last Brough Superior SS100 to leave the Nottingham factory
1940 Brough Superior 982cc SS100
Registration no. JTO 828 (UK)
Frame no. MI/1986
Engine no. BS/X2 1106
Legendary superbike of motorcycling's between-the-wars 'Golden Age', Brough Superior – 'The Rolls-Royce of Motorcycles' - was synonymous with high performance, engineering excellence and quality of finish. That such a formidable reputation was forged by a motorcycle constructed almost entirely from bought-in components says much for the publicity skills of George Brough. But if ever a machine was more than the sum of its parts, it was the Brough Superior.

W E Brough's machines had been innovative and well engineered, and his son's continued the family tradition but with an added ingredient - style. The very first Brough Superior MkI of 1919 featured a saddle tank - an innovation not adopted by the rest of the British industry until 1928 - and the latter's broad-nosed, wedge-profiled outline would be a hallmark of the Nottingham-built machines from then on. Always the perfectionist, Brough bought only the best available components for his bikes, reasoning that if the product was right, a lofty price tag would be no handicap. And in the 'Roaring Twenties' there were sufficient wealthy connoisseurs around to prove him right. One such was T E Lawrence – 'Lawrence of Arabia' – who owned several Broughs and was killed riding an SS100.

First shown to the public in 1924, the SS100 employed an entirely new overhead-valve 980cc JAP v-twin engine. A frame of duplex cradle type was devised for the newcomer, which soon after its launch became available with the distinctive, Harley-Davidson-influenced, Castle front fork patented by George Brough and Harold 'Oily' Karslake. And just in case prospective customers had any doubts about the SS100's performance, each machine came with a written guarantee that it had been timed at over 100mph for a quarter of a mile - a staggering achievement at a time when very few road vehicles of any sort were capable of reaching three-figure speeds.

Brough entered the 1930s with an entirely JAP-powered range and then in 1936 the SS100 was redesigned with an overhead-valve Matchless engine built by Associated Motor Cycles exclusively for Brough. By the time manufacture ceased in 1940, a total of 102 Matchless-engined examples had been built, making this the rarest of the SS100s and by far the most user-friendly and reliable. Survivors number approximately 71 worldwide.

The machine offered here comes with a letter from Brough Superior Owners Club Registrar, Mike Leatherdale stating that it retains matching frame/engine numbers and is the last SS100 built. By the time of the machine's completion in April 1940 the Brough factory had been turned over to war work (making parts for the Rolls-Royce Merlin engine) and the handful of motorcycles built at this time were assembled from stocks of existing parts. For some time most of George Brough's clients had preferred the optional rear suspension, and this particular SS100's rigid frame had been in stock since April 1938. The completed machine was dispatched from the works on April 11th 1940 via Continental Express to a Mr McLaughlin (possibly a customer in the Republic of Ireland) and returned to the UK post-war, presumably to the Brough factory as it was registered 'JTO 828' in Nottingham on June 6th 1947.

This machine appears to have been used by E O Blacknell (of Blacknell sidecars) and was featured in Motor Cycling magazine (September 11th 1949 edition). Subsequently owned by one Terry Knight in Devon, the Brough was sold in the mid-1970s to the USA where it was purchased by the current vendor in 2010.

This motorcycle represents a wonderful opportunity to acquire an SS100 of the utmost significance in the history of this most iconic of pre-war British motorcycles.
Footnotes
Saleroom notices
Please note this title is in transit.