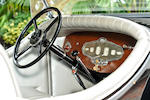 Ex-Briggs Cunningham, William Ruger
1929 Stutz Series M Four-Passenger Dual-Cowl Speedster
Coachwork by LeBaron
Chassis no. M843CY17A
Engine no. 30.360
This year we celebrate the centennial of America's most sporting prewar car, Stutz. Born in Indianapolis, it didn't take long for the marque to prove they had racing in their DNA. At the inaugural Indy 500 Harry C. Stutz's first car, the Bearcat prototype, scored 11th place; well earning their slogan: "the car that made good in a day."

Despite always being a small and low production company, Stutz has always been well known for their speed and performance. They dominated American racing in the teens with the "White Squadron" racing team and the Bearcat has always been considered one of the great icons of motoring. Despite market trends, Stutz never abandoned its sporting heritage.

The Stutz Company went through many ups and downs and Harry C. Stutz eventually lost control of his company. Fortunately for the company, however, an equally visionary and brilliant man would come in to fill his shoes: Fred Moskovics. Moscovics had made a good reputation for himself in the auto industry, his period at Marmon had lead to their most charismatic and high performance products to date. His automotive inspirations were heavily directed toward the powerful and sophisticated machines coming from Europe. Alfa Romeo, Daimler, Bentley, Mercedes and other potent Grand Touring machines were his fascination and he saw that America produced nothing like them. Moskovics took it on himself to produce an American car that could rival the world's best.

Moskovics surrounded himself with a team of talented engineers, most notably Charles "Pop" Greuter. Greuter was an engine-man fascinated with the potential of over-head cam valve trains. His design for Excelsior of an over-head cam straight-eight would prove the basis for the new Stutz Eight. This Eight was a marvel of sophistication: chain driven overhead cam, ten main bearings, dual ignition, dual throat carburetion and cross flow porting.

A new chassis would need to be developed to get the full potential out of this great new engine. Stutz cars had always touted the benefits of a low chassis and the Eight would take it further. By using a Timken worm drive rear axle the whole chassis could be lowered considerably. This design was also used to the same effect in the Double Six Daimler and the low chassis Invictas.

Braking would initially be by Timken hydrostatic then Lockheed hydraulics with oversized finned drums on all four wheels. Transmission would be first by a three-speed Warner then a four-speed Detroit Gear unit. Four-speed transmissions were unheard of in American cars at the time and Stutz eventually went back to the three-speed Warner in '31.

The new Eight-cylinder "Safety Stutz" proved a break through. The 1928 model won every American Stock Car race entered and was declared World's Champion. Two custom Blackhawk Speedster bodies were penned by Le Baron to take full advantage of the performance. The four-passenger speedster body was designed and built so Stutz would have a car eligible for racing that required four seats.

The most famous race requiring passenger cars with four seats and a top was the 24hrs of Le Mans. This now ubiquitous event was relatively unknown at the time in America but was the Super Bowl for road going cars. A French Stutz agent entered the Stock Stutz Blackhawk Four-Passenger Speedster in the 1928 event. It was the only Stutz entered, and it held the lead for much of the race, holding off an entire team of works Bentleys. Unfortunately a loss of high gear late in the race forced the Stutz to finish second.

This magnificent 1929 Stutz Speedster is an example of what many consider the ultimate year for the series. The 1929 Stutz features the "Challenger" engine, used at Le Mans, with better head porting and improved performance and flexibility. The engine is mated to the four-speed transmission that only 1929 and 1930 model Stutz's have. The brakes are the powerful vacuum boosted Lockheed units which are far superior to the Timken design of earlier models.

The most notable feature of this car is its striking coachwork. The Le Baron Speedster bodywork is both elegant and also a nod to the Europeans. The cut-down doors were prominent features of European sporting machines, aimed to give the driver elbowroom for athletically driving his nimble machine. The body is close coupled and the design is further enhanced by the dual cowl configuration. Another nice bit regarding the Le Baron style is the shaping of the lower edge of the doors. Any dual cowl Stutz is rare and sought after but the Speedster is the most elusive.

This car has impeccable provenance. It was part of the famed collection of Briggs Cunningham and featured in his book 'Connoisseur's Choice- Racing, Sports and Touring Cars'. From Cunningham the car went to Stutz Club founding member William Ruger. Ruger was a famed firearm manufacturer and a true Stutz enthusiast who treated this car to some special attention.

Stutz fans have long been fascinated by the idea of what could have been. The Stutz Eight was a marvel of design but Stutz, due to limited resources, was never able to develop it fully. Many have tried to unlock the potential of these engines, Ruger even commissioned Calloway, well known for their Corvette conversions and LeMans racing successes, to see what they could do with the motor. The work performed included replacing the original aluminum rods with titanium ones, new aluminum pistons that brought the compression up to 9.5 to 1 and the head was reworked for improved flow. Calloway even experimented with forced induction eventually getting over 400HP!

Currently the motor is in its normally aspirated configuration with an outwardly stock appearance. The engine's internal modifications should push its power well over 150hp. This should ad up to a delightful car to drive and a pleasant and surprisingly quick tour car.

This is a wonderful chance to acquire a fully restored Stutz with highly desirable coachwork, impeccable provenance, and extensive engine work by one of America's premier engineering shops.