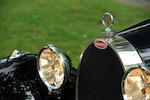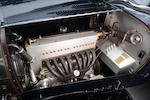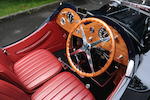 The ex-Ralph Eades, Richard C. Adams
1930 Bugatti Type 43 Supercharged Sports 2/4 Seater
Chassis no. 43286
Engine no. 133
The Type 43 was launched in the spring of 1927 and was developed from the Type 38, from which it took axles, brakes, steering, radiator and gearbox. The engine, on the other hand, was a 2.3 liter supercharged unit taken from the Type 35B grand prix car. A slightly shorter wheelbase chassis was used, waisted in the center to follow the body lines. It was hailed as a road car with the qualities of its racing sister, and was well suited to sporting events such as the Alpine Trial, hill climbs and circuit racing while retaining all the capabilities of a long distance fast touring car.

Described by the late Hugh Conway as 'one of the four really great Bugatti models', the Type 43 was among the very first road cars to be offered with a top speed of over 100 mph. It was also expensive, selling on when new in 1927 at a list price of £1200. Autocar's European correspondent W F Bradley owned a Type 43 in the late 1920s and wrote, 'This model has all the characteristics of a racing car, and is indeed a racing car with a touring body; it looks fast, and it really is fast, but six months' experience with one on French highways has proved that it is one of the safest cars a motorist could handle. 'Its maximum speed is about 112 mph: its gear ratio and the size of tire used give 20.5 mph per 1000 rpm... one soon becomes satisfied with the knowledge that the car is one of the fastest on the road, and the greatest pleasure is obtained not in attempting to obtain the maximum from it (indeed, that is all but impossible except on a track), but in its wonderful acceleration, its high degree of flexibility, and its remarkable steadiness at all speeds, and particularly when one is negotiating winding hills.'

This exquisite supercharged 8 cylinder Bugatti comes to the public market for the first time ever in its life. It is a car that has been fastidiously researched by two of the great authorities on the marque, David Sewell in the U.K and Pierre-Yves Laugier of France and has benefited from a comprehensive restoration at the hands of one of the great restorers of the marque Jim Stranberg of High Mountain Classics in Colorado.

Its documented history, compiled from the reports of these two renowned historians has been traced back through a combination of factory records and French registration listings and actually begins in September 1928, when the car's engine '133' was built at the Molsheim works and fitted to chassis 43286, it was one of eight cars to be built that month. It would not be sold from the works though for another 18 months, when it was invoiced to B. Larrousé of Paris on May 12, 1930. Sewell's belief is that Larrousé was most likely a recently appointed agent for the company as just 3 were sold to him in 1929 and no less than 56 Bugattis were invoiced in 1930!

Through Laugier's forensic style investigation of the French registration records, it was established that while the first person that Larrouse sold the Bugatti to is not confirmed but by 1932 it was the property of M. Eonnet. The Eonnet family are known to have been a serial Bugattistes and would follow this purchase with acquisitions of at Bugattis including 57S (57511) and a Type 51. Photos sourced from their family album by Laugier, show the 43 being enjoyed by Eonnet, and establish that it carried factory Grand Sport coachwork.

In 1936 the car moved to the first of a series of owners on the French Riviera and with it new local registration with the Nice authorities, amazingly and helpfully these Police records exist and refer back to the car's last change of ownership having been in July 1933 in Paris. The first of these Southern French owners was Ernest Bahier of Nice who kept the car through the war years from 1936 to 1945, it changed hands on the Riveira to Eugene Gillio of Cannes, then moved to Avignon to a dealer Guy Dore in July 1948 and then back to the coast to Marseille in September 1948.

Within 2 weeks, the car was bought in Marseille by American Peter Hall and this would commence its U.S. history, for two years later he shipped the Bugatti back to America in 1950. By this time, the car was already in the guise in which it is seen today, as a typically mid-1930s 2/4 seater with full fenders and running boards and with two raised cowls. Neither Sewell or Laugier have pinpointed a precise date when the car was updated to this style, but both surmise that its revisions would have made the car look more like the contemporary Type 55 and other European Sportscars of the day were carried out during its time on the French Riviera although this work has long been attributed to Paris coachbuilder Million-Guiet.

Over the course of the last 60 or so years, the car has had just a handful of owners. Ralph Eades of Santa Ana, CA, in 1953 who is known to have purchased in from Peter Hall, then Tom Harrison, in 1973 before passing into the long term ownership of noted Bugatti collector Richard Adams of La Mesa and subsequently family members Lee Adams and Betsy Adams.

Within the last decade, the Adams' decided to restore the car and commissioned Jim Stranberg of High Mountain Classics to undertake this work. A comprehensive restoration of cosmetic and mechanical aspects has produced the stunning result that we see today.

On completion of the restoration, the Type 43 made its debut on the hallowed fairway at the Pebble Beach Concours in 2006, where it received 3rd in its class behind a somewhat formidable entry - a considerable achievement. Since then it has changed hands twice and continued to be shown, most recently at 'The Elegance at Hershey' Concours in June this year, when it was awarded the 'French Curves' award, confirming that it maintains the exceptional condition achieved in its 5 year old restoration.

It could be argued that a Type 43 is one of the best ways to experience the Bugatti legend, as it harnesses the 'pur sang' or 'pure blood' of the fabled Supercharged Type 35B, with virtually the same running gear, yet in an altogether more road friendly package making it more suitable for high speed touring. As they go, this is surely one of the best presented examples of its kind and is in ready to be used order.