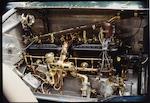 The first and the rarest American Roadster Body constructed by R-R America on a limited British 1920 High Speed R-R Chassis. Prototype Picadilly Roadster design, called a Runabout. Ex-Seymour Knox Jr., two owners from new.
1920 Rolls-Royce 40/50hp Silver Ghost Gentleman's Roadster
Chassis no. 80 LE
Engine no. N 267 H
Body no. P-55

It was an open secret that Rolls-Royce of England were taking more than a passing interest in the New World market, with Claude Johnson spending considerable time in America following the end of the 1914-18 hostilities.

As the war had ended there was a great pent-up demand for new cars, and the Rolls-Royce factory could not keep up with demand for the first couple of years after the Armistice. Johnson knew that the American auto market was much larger than the rest of the world combined, and it was not a market that Rolls-Royce was penetrating very effectively. Cleverly, he decided that the best way to attack the U.S. market was that Rolls-Royce needed a factory in the USA and so he set about establishing a manufacturing operation on Yankee soil. Having looked at a plant site in New Jersey, he chose Springfield, Massachusetts, because there was suitable real estate available, a large pool of skilled workers and a history of good labor relations. The old Indian Motorcycle works were acquired in 1920 and work began. Fifty-one foremen sailed over from Britain and set about hiring the rest of the staff locally. True production commenced in 1921, but only a few cars were produced that year.

This beautiful Rolls-Royce Gentleman's Roadster dates from the earliest days of the Trans Atlantic development of the company and the story begins with the famed Knox family. For those not familiar with the Knox name they will almost certainly be familiar with the name of Seymour Horace Knox's first cousin and business partner, F.W. Woolworth. Like his cousin Knox built 'Nickel and Dime' stores which were eventually merged with three others to form the F.W. Woolworth Company in 1912, with their headquarters in the famous Woolworth building on New York's Broadway.

Grace and Seymour Knox's son, Seymour Jr. was born just before the turn of the century on September 1, 1898. It is understood that in anticipation of Seymour Knox Junior's 23rd Birthday in the fall of 1921, his mother was keen to find a significant present for him, and thought that an automobile would fit the bill. His friends all drove the great American cars, but she wanted something a little different, it had to be special, distinguished, but sporting. The solution to her quest came when she was in New York one day and stopped by the Rolls-Royce agent, R.W. Schuette on Fifth Avenue. It would be a Rolls-Royce Silver Ghost.

Schuette would have had good news for her in that shortly there would be locally made Rolls-Royce automobiles, but since the Springfield operation was in its incubation and time was relatively short, the chassis would have to be ordered from England. The car was commissioned with the limited production Alpine Eagle or 'High Speed' chassis as it is noted on the build cards, with high compression pistons, and springs set for a 'Runabout' body with light luggage weight. It also had a 'D' rake steering column and its control levers were 'set-in' inside the sleek bodywork. Most importantly it would have a sporting 16/52 rear axle gear ratio. The Chassis went on test November 29, 1920. It was built with side lamp wiring to the dash, while various allowances were made for items that would be supplied in the U.S. such as tires, spark plugs, battery and battery box.

The chassis was shipped on the S.S. Vennonia from London on March 30, 1921, on arrival in America it was sent straight to Springfield, where its coachwork was built with an anticipated order date in July. As the factory styles of coachwork developed, for the most part these were farmed out to the wealth of local coach building talent in the Springfield area. Although badged as Rolls-Royce Custom Coach Work on their body plate, initials or numbers on these plates would refer to particular houses, such as Willoughby, Merrimac, Brewster and so on. On these early cars there is no such designation and the reference in the records that is used has yet to have been deciphered. Most were either prefixed 'P' or 'PA' and this car is P-55, some suggest standing for prototype or pre-production, it seems likely that they were actually built at the Springfield works themselves. P-55 was built on the chassis. The wood of the body is stamped 80LE. Of those early cars, just 6 'P' bodies survive.

For Mrs. Grace Knox the design that they came up with is arguably one of the most handsome that a Rolls-Royce was ever equipped with-in the Rolls-Royce of America catalog for 1922 it was called the Gentleman's Roadster. 80 LE matches this printed design in every aspect, from its compact driving area to its windshield and waist line. This style would evolve into the Piccadilly Roadster, itself a much desired style, but many consider the Gentleman's Roadster a more sporting and elegant rendering and it is frequently referred to as the prototype for the Piccadilly.

That Seymour Knox Jr. appreciated his 23rd Birthday present is without doubt. He kept the car from that day until his death in 1990, regularly using the car albeit less and less as he grew old, latterly only on his estate.

Having been active members of the Rolls-Royce Owners Club for a number of years, as was Seymour Knox Jr., the present owners harbored a desire for a Silver Ghost, which peaked in 1991 following a number of events where they had shared drives with friends in one of these legendary cars. They were in luck with their timing as B. Paul Moser had just ferreted out the Knox car. Realizing its importance, they quickly moved to purchase it. 80 LE was shipped directly from the Aurora, NY estate on which it had lived all its life.

Seymour, as they would christen the car in honor of Knox, was by now in a well worn but entirely undamaged and original state, having been carefully looked after and appreciated by its single owner of nearly 70 years. Since the present owners are active users of their cars and wanted to have a car that they would be able to tour extensively they decided to restore it to 'as new' order and for them that meant an exhaustive personal restoration, using copies of the original N to P R-R catalogue of parts for authenticity. With exceptional mechanical knowledge and understanding, the car was literally dismantled in its entirety, which for true enthusiasts of the marque proved to be a fascinating exercise. During this restoration they learned that the car had never been repainted in its lifetime, the body and the chassis were originally painted the same color which was computer matched during the restoration. Interestingly the canvas base of the rumble seat cushion fabric was inscribed 'trap seat' a nod to the carriage building days. The compact top arrangement was discovered to be a unit bought in by the coachbuilder from the 'Golde' company and was a patent one man design.

The car was totally restored, from the ground up, it was repainted in the original color. The entire chassis, engine, and body were restored as new, and the nickel bright work, wheels, upholstery, topping and trunk and all other parts were totally renewed, the work taking more than two and a half years. It was finally completed in 1994 in time for the RROC Philadelphia meet and this would begin a country wide journey of tours and Concours events over the course of the next 15 years. The attention to detail immediately paid off, awards that the car has achieved are: RROC National winner 1994, 1996, and 2004, a First in Class at Pebble Beach Concours d'Elegance in 1995, First Place Junior AACA award, AACA Foo Dog National Award for best Rolls-Royce, AACA Senior award, a First at Meadowbrook Hall in 1996, Best American Bodied Car – RROC National Meet Monterey, CA – 2004, First in Class Amelia Island 2004 and Chief Judges award Saint Michaels Concours d'Elegance 2009 the list continues. But it is not all about Concours either, the car has been driven from Coast to coast and on many long distance events, all without complication. It has been featured in numerous publications including: Speed and Luxury and The Art of The Automobile – The 100 Greatest Cars, as well as in Car Collector magazine, the RROC Flying Lady, and the Silver Ghost Tourer.

It is testament to the fastidious ownership that, today 17 years after it was restored and having been enjoyably driven that the car remains in beautifully presented order.

The design and its well chosen color scheme, accented by the nickel trim complement the Silver Ghost perfectly giving it a truly handsome, yet sporting stance on the road and when standing still. When combined with its wonderful history, the two-owner, Knox Runabout is one of the finest Rolls-Royce ever built and thoroughly deserving of the attention it regularly receives. Accompanying the car is a file of extensive documentation charting the discovery, restoration and research into this interesting Rolls-Royce.

To buy the car today, is to become only the third owner of this automobile in 90 years, something that rarely occurs on any collector car, let alone one of this quality, rarity and style.
Saleroom notices
Please note that chassis listed on the title reads RR80LE21