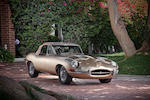 1968 Jaguar XKE Series 1.5 Roadster
Chassis no. 1E16228
Engine no. 7E14859-9
Jaguar's E-Type debuted at the March 1961 Geneva Motor Show, to universal applause and plaudits from the pundits. Its pure form, almost devoid of ornamentation, blew everyone away, a sleek shape with only a tiny mouth for breathing, and slender bar bumpers and chrome wire wheels for glitz. The U.S. intro came the following month at the New York International Auto Show where, in recognition of the strong brand awareness accorded its XK predecessors, it was advertised and sold as the "XKE."

For 1965 vast improvements were made to the gearbox, brakes, interior, etc. The engine was enlarged to 4.2 liters, but horsepower remained the same. Torque output, however, was greater and this made for better tractability in traffic situations.

This E-Type was delivered new in December of 1967 to Jaguar Cars New York wearing sand paintwork, a matching top, and a beige interior. Today, after an extensive restoration done earlier this year by marquee specialists Classic Showcase of Oceanside, California, the car appears very much as it did when it arrived in New York on that blustery December day.

Stripped to bare metal, the car was placed on a rotisserie and metal finished, leaded, and painted. All mechanical systems and components were attended to, service, restored, or replaced as needed. The original engine and transmission were rebuilt back to factory specifications. Similarly, the electrical, hydraulic, cooling, and fuel systems have all been gone through and new rubber and seals have been fitted. A new, correct exhaust system was fitted, along with a new battery. The gas tank was epoxy sealed and the radiator was restored. All of the chrome was either re-plated or replaced. The interior was completed correctly with new hides in the original beige color. Finally, the wheels and tires have been replaced with factory-correct pieces...what would all the work be without a new set of shoes? A DVD included with the vehicle documents the restoration process, as well as a Jaguar Heritage Certificate.

Driven only 100 miles since restoration, this reborn cat is now ready to rock and roll!