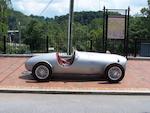 c.1948 Fiat-Cisitalia Special Two-Seater
Chassis no. 5295149
Engine no. 275415
The concept of building a lightweight competition special using some off-the-shelf parts and a lot of talent and ingenuity has been around nearly as long as automobile racing. Many were awkward, a few were exceptional—this car is one of the latter.

In Italy, road racing events were prominent and builders found that a competitive car could be built using primarily Fiat 1100 components. The brakes, suspension and motor could be fitted to a lightweight tubular chassis. The engine was highly tunable and manufacturers like Cisitalia produced parts to get the most out of these engines. The resulting cars were quick and highly maneuverable.

These little specials proved quite competitive against more sophisticated and costly machines. The heavily tuned Fiat motor can rocket the lightweight car down the road and hydraulic brakes and a stout tubular frame kept things under control. These little specials proved quite competitive and many similar cars raced in the Mille Miglia and the Coppa della Dolomiti.

This example is beautifully made and great looking. The all-metal coachwork is made with a high degree of skill and a great eye for proportions. The tubular chassis is well designed—stout and clearly made in the gas welded fashion of the late '40s. The sleek coachwork is nicely finished with the deep egg crate grille. Currently set up for competition it would not take much to make it a road legal machine, perfect for rallies.

Currently in nicely restored, and reportedly operating, condition, it is finished in attractive silver livery and nice, deep red leather upholstery. A set of period Jaeger instruments fill the metal dashboard. The car rides on knock-off wire wheels mounted on finned aluminum brake drums.

This car is Cisitalia-badged and has a Cisitalia ID plate that looks original to the frame. It was inspected by a Cisitalia marque expert who said it matched all the characteristics of a Cisitalia of the period, but at this time there is no documentation to link this car to Cisitalia.

Built by Cisitalia or not, it is still an authentic special of the period. Cars like this always have appeal due to their great looks, performance and simple mechanicals. Unlike some of their exotic big brothers, these cars are not prohibitively expensive to maintain and use and offer much of the same experience.
Saleroom notices
Please note this title is in transit.