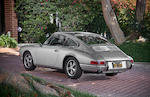 1967 Porsche 911 Coupe
Chassis no. 308221
Engine no. 911966
The most historically significant of all Porsche models, so far, has been the 911, which was introduced in 1964 and, in much the same form, was to be the mainstay of Porsche production for more than 30 years, albeit constantly modified and uprated. With broadly similar layout to the 356, the 911 had a steel platform chassis with springing by torsion bars, MacPherson front struts and rear trailing arms, and flat-6 air-cooled engine and 5-speed transmission first seen on the 904. More than 40 years later, early 911s continue to be competitive on circuit or special stage.

The 308221 chassis number stamped into the body shell in the correct place indicates that this short-wheelbase 911 Coupe was manufactured in Stuttgart in 1967, one of 1600 Coupes to roll off the assembly line that year. Featuring the engine it left the factory with and sporting a California Black Plate, this 911 was the subject of a recent restoration by Classic Showcase of Oceanside, California that brought the car up to the quality its shows today. The car was disassembled, painted, color sanded and buffed. Each of the body panels and parts were painted separately off of the car.

Inside, a completely new interior featuring factory-correct materials was fitted and installed. Additionally, new rubber seals and hardware were fitted and brightwork that needed attention was re-chromed. Mechanically, a full service was undertaken including the rebuilding of the carburetors, valve adjustment, major tune-up, and further maintenance. A final example of the attention to minutiae paid was the full detail inside and out, including the undercarriage. A DVD of the work completed is included with the car.

Showing very well inside and out and sitting on a set of Fuchs alloy rims, there is little more an enthusiast could ask for from a machine. With the heavy lifting out of the way, this brilliant silver 911 from one of the most desirable years of the model is ready for its next owner to enjoy it.