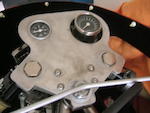 Jawa Type 673 Replica
If ever there was a Grand Prix racing motorcycle famous for all the wrong reasons, it is the notorious Jawa V4, which claimed the life of former world champion Bill Ivy at the Sachsenring in 1969. Ivy crashed in practice when the temperamental Czech two-stroke seized at high speed, the bike and its rider sliding into an unprotected concrete wall.

Jawa's hopes of Grand Prix glory effectively ended with Bill Ivy's passing. Yet despite its fearsome reputation there was no shortage of riders willing to race the V4, which was the only credible rival to MV Agusta in the 350 class. The likes of Jack Findlay, Ginger Molloy and Silvio Grassetti all raced the Czech two-strokes with some success, Grassetti's 2nd place at the Italian Grand Prix in 1969 being the best result achieved. When the FIM banned multi-cylinder engines from the 350 class at the end of the '69 season, the Jawa V4's career was effectively over.

According to information kindly supplied by the Prague Technical Museum, only three complete Type 673 racers were completed by the factory in period, plus a number of spare engines, a handful of which were 420cc. Of the three complete machines retained by the Jawa factory museum in the 1970s, one is still there while another was bought circa 1990 by a Mr Faber from Vienna and is now owned by a German enthusiast. The third was bought and restored by its designer, Zdenek Tichy, and since 2003 has been owned by the Prague Technical Museum.

Over the years several copies of the Type 673 have been made in the Czech Republic using the factory jigs and incorporating genuine spares. The machine offered here, although a close approximation to an original Type 673 with regard to its frame and running gear, is a modern replica powered by a Yamaha RD500LC engine. Described by the vendor as in generally good condition, the machine was last used around 18 months ago and will require re-commissioning before returning to the racetrack.