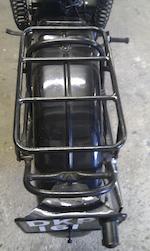 1937 AJS 982cc Model 37/2
Registration no. DKP 161
Frame no. 788
Engine no. 37/2/2304
Following the Matchless take-over of 1931, AJS production was relocated to Plumstead where the existing range continued largely unaltered initially. Indeed, the two marques would retain largely separate identities until the outbreak of WW2. AJS's own 998cc sidevalve v-twin was one of the first models to be dropped, disappearing at the end of the '31 season, and for the next 12 months there was no large-capacity 'sidecar tug' in the range. That changed for 1933 with the arrival of the Model 2, which was powered by the engine of the long established Matchless Model X. Designated 'X/2' on its launch in 1925, this 982cc sidevalve v-twin would remain in production until the outbreak of WW2, its engine being supplied to Brough Superior for use in the SS80 from 1935 onwards. While lesser models came and went, the stately Model X and Model 2 remained fixtures of their respective ranges, progressively updated, until 1940.

This AJS Model 2 previously belonged to the vendor's father - a plumber, who used it most days for his work - and has been in the family's ownership since 1942. A large box sidecar was attached to carry his tools, while in WW2 the AJS was used as a despatch rider's mount during its owner's period of service in the Home Guard. After his death the machine lay abandoned for several years until 1976 when the current vendor decided to restore it. Ongoing since the 1970s, the project involved a complete strip-down; cleaning the engine inside and out; replacing the piston rings and exhaust system; re-chroming the fuel tank, control levers and other fittings; reconditioning the magneto; and installing a new wiring loom. Work still to be done includes connecting the headlamp and horn, fitting the recently purchased speedometer cable, and final checks and adjustments. The machine is offered with old-style logbook, dating certificate and Swansea V5 registration document.