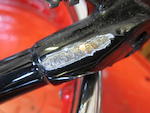 1951 Vincent 499cc Comet Project
Frame no. RC/1/8880/C
Engine no. F5AB/2A/6946
Rear frame no. RC5835
Crankcase mating no. 7AA

Representing a relatively affordable entry into the ranks of Vincent owners, this dismantled Comet consist of an upper frame, rear frame, engine (believed complete), engine plates, gearbox, exhaust system, Girdraulic forks (finished in red), a restored fuel tank (also red finished), wheel rims, saddle and tread-down centre stand. Prospective purchasers should satisfy themselves with regard to the completeness or otherwise of this Lot, which is sold strictly as viewed.