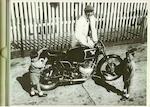 1953 Matchless 498cc G45 Racing Motorcycle
Frame no. G45 151
Engine no. G45 151
One of the oldest of British motorcycle manufacturers, Matchless pursued a vigorous competition policy in its early years, founder's son Charlie Collier winning the inaugural Isle of Man TT (single-cylinder) race of 1907 and repeating the feat in 1910, brother Harry having brought home the honours in 1909. However, by the 1930s Matchless had ceased to be thought of as a racing marque and after WW2 the firm, by now reconstituted as Associated Motor Cycles having acquired AJS, chose the latter's badge for its competition machines. In this context the arrival of a new Matchless racing motorcycle in 1951 caused something of a stir.

The prototype of what would become the G45 first appeared at the '51 Manx Grand Prix with Robin Sherry in the saddle, eventually finishing 4th after a promising debut. In fact the machine was not an entirely new design but essentially a hybrid comprised of AJS 7R-based cycle parts into which was installed a tuned Matchless G9 roadster engine. The engine's bottom-end remained more-or-less stock G9 and retained AMC's unique centre-bearing crankshaft, but above the crankcase there was a new aluminium-alloy cylinder barrel and 'head, the latter sporting distinctively finned exhaust rocker boxes. Fuel was supplied by a single Amal TT carburettor and exhausted via short, megaphone-ended pipes.

In 1952 the prototype G45 garnered much valuable publicity and not a little controversy when Derek Farrant - later an AJS works rider on both Porcupine and 7R3 - won the Senior Manx Grand Prix after leading from start to finish. Strictly speaking, a works prototype had no business running in an event for amateurs riding over-the-counter machines, but AMC quickly announced that a production G45 would be available for 1953. Although still based on that of the G9, the production version's engine incorporated a different camshaft, which opened the valves via roller-ended followers, and breathed via a pair of Amal GP carburettors mounted either side of a central float chamber. Claimed power output was 48bhp at 7,200rpm, increasing on later models to 54bhp at 7,400 revs.

Apart from revised valve gear and the adoption of a forged crankshaft, the G45 changed little over the course of its life, and what developments there were did not keep pace with the opposition. Production ceased in 1957 after around 80 machines had been built, of which approximately half are thought to survive worldwide today.

This rare, matching-numbers Matchless G45 was purchased new in February 1954 by Ken Swallow (of the eponymous motorcycle racing dynasty) who raced it at the North West 200 (finishing 6th) and at the Isle of Man TT. Ken was employed by suspension manufacturer Woodhead-Munroe as Development Manager at the time and had been charged with promoting its products to the racing fraternity. As well as fitting their shock absorbers at the rear, Ken got Reynolds Tubes' frame-building guru Ken Sprayson to produce a set of leading-link front forks using the firm's famous '531' tubing, which were fitted over the winter of 1954/55. In this form the G45 was raced by Ken at the TT in 1955 and tested by journalist Vic Willoughby over the mountain circuit (on trade plates) for an article that appeared in The Motor Cycle magazine's 16th June edition (see history file).

In 1958 Ken sold the Matchless to Ernie Farrimond of Wigan and at some time in the 1960s the bike passed to Bill Burton, whose son-in-law Roger Durrant raced it up to 1980, the last occasion being at Donington Park. The G45 then lay idle until the current vendor purchased it from Bill Burton's daughter in 1998, Bill having died in 1995. Since acquisition the bike has done six Isle of Man TT parade laps and various short circuit demonstration laps.

Eight years ago Bill Swallow was reunited with his father's old G45 at Cadwell Park for a track test published in Classic Racer magazine (November/December 2003 edition, copy available). Bill was mildly surprised by the leading-link fork's benign characteristics and found the acceleration surprisingly good, remarking on the relative lack of vibration - 'far less than expected from a British vertical twin' - while concluding that the G45 'had many fine qualities and loads of character.'

Recent work, undertaken in 2004, included replacing the standard triple valve springs with Volkswagen Polo springs and pre-load blocks, the purpose of this conversion being to reduce the load on the rocker spindle pillars, an acknowledged weak point of the G45 engine. (We are advised that triple springs can be refitted at ant time and that three sets are included in the sale). At the same time new genuine G45 pistons and cylinder liners were installed.

Offered with bill of sale (1998), spare transfers, sundry correspondence and assorted technical literature, photographs, magazines, press cuttings and articles (including 1955 TT reports), this wonderfully original G45 represents a rare opportunity to acquire one of the most beautiful and desirable British racing motorcycles ever made.