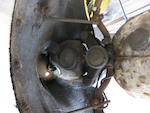 c.1959 Matchless 498cc G9
Registration no. 596 CTX
Frame no. A71378
Announced in 1948, the Matchless G9 and equivalent AJS Model 20, while following the established pattern of British parallel twins, were unusual in having a third, central, crankshaft main bearing. The new 498cc engine was housed in the sprung frame recently introduced on the heavyweight singles. Progressively developed, the motor underwent a number of capacity increases, finally arriving at 646cc in 1958 with the launch of the AJS Model 31 and Matchless G12. Well-finished, stylish and deservedly popular, the AMC twins were much missed after their demise in 1966. There are no documents with this particular G9, which is offered for restoration and sold strictly as viewed. It is expected that the detached rear wheel will have been reunited with the machine by time of sale.
Saleroom notices
This machine was supplied on the 2nd July 1959 by Jones of Glamorgan.