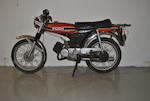 1976 Puch M50 Grand Prix Sports Moped
Registration no. SGP 386R
Frame no. 2102.105
The advent of 'Sixteener Special' sports mopeds in the 1970s allowed the Austrian firm of Steyr-Daimler-Puch, long-established as makers of two-stroke lightweights, to grab a substantial slice of the UK 'learner' market with models such as the 'Grand Prix'. Meanwhile, the popular Maxi range continued to cater for commuters. Bike magazine's tester was pleasantly surprised by the Grand Prix's performance back in 1975, finding it 'enough to pass lorries when its speedo clocks 45mph (yes, 45mph) and not take a two-mile straight to accomplish the task either.' Top speed was estimated at 50mph and the little Puch returned 113mpg, even when thrashed. Acquired by its owner in 1991, this example is offered for restoration and sold strictly as viewed. A Swansea V5C document comes with it.
Saleroom notices
We have not been able to locate an engine number on this machine.