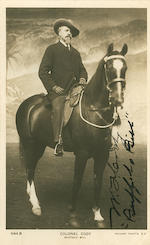 AMERICANA.
1. BURR, AARON. Check Signed ("A. Burr"), partially printed and accomplished in manuscript, 2 ¾ by 7 inches, New York, n.d., drawn on the Manhattan Company in the amount of $85, paid do "G.D." canceled at left and right not affecting signature.
2. CARTER, JAMES EARL. Photograph Signed ("Jimmy Carter 5-79"), 8 by 10 inch silver gelatin print, of Carter at White House, inscribed to Colin Higgins.
3. CODY, WILLIAM F. Photograph Signed ("W.F. Cody 'Buffalo Bill'"), 3 ¼ by 5 ½ inch photo-postcard of Cody in civilian clothes astride horse, signed at lower left.
4. WASHINGTON, BOOKER T. Typed Letter Signed ("Booker T. Washington"), 1 p, 4to, New York, November 20, 1900, to Charles E. Dickerson of Mt. Harmon School, regarding an invitation.

See illustration.
Provenance: Estate of Charles Williamson and Tucker Fleming.