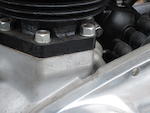 1954 Triumph 650cc Thunderbird
Registration no. TWE 20
Frame no. C60239
Engine no. 6T 60239
Always a step ahead of their rivals, Triumph followed up the trend-setting Speed Twin 500 of pre-war days by being first in the field with a 650cc parallel twin. Announced in September 1949, the 650 Thunderbird was Triumph's response to demands for more power emanating from American racers and British sidecarists alike. A spectacular launch stunt saw three Thunderbirds lap the banked Montlhéry circuit in France at over 90mph for 500 miles, after which they each achieved a flying lap of 100mph-plus and were ridden back to the Meriden factory, a quite outstanding achievement. One of the most significant subsequent developments was the introduction of a swinging-arm frame for 1955 but prior to that time Triumph twins could be ordered with the optional 'sprung hub', which offered a limited amount of rear suspension movement.

This example was first registered on 1st December 1954 and is fitted with a MkII sprung hub and was restored by its previous owner. The latter told the current vendor that it had been a joy to restore the Thunderbird, which was very complete and original, and did not require any new parts other than a pair of tyres. Since restoration circa three years ago the machine has been stored and thus will require re-commissioning and the customary safety checks before returning to the road. Offered with old/current Swansea V5/V5C documents.