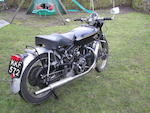 c.1950 Vincent-HRD 998cc Rapide
Registration no. KKF 572
Frame no. RC/1/4714
Engine no. F10AB/1/5941
Ever since the Series A's arrival in 1937, the Vincent v-twin has been synonymous with design innovation, engineering excellence and superlative high performance. From Rollie Free's capture of the 'world's fastest production motorcycle' record in 1948 on a tuned Series-B Black Shadow to the final fully enclosed Black Knight and Black Prince, Philip Vincent's stress on appearance and performance is legendary. His machines bristled with innovative features, offering adjustment of brake pedal, footrests, seat height and gear-change lever. The finish was to a very high standard commensurate with the cost of the machine, which was virtually double that of any of its contemporaries.

But above all else it was the v-twin's stupendous performance that captivated motorcyclists, whether they could afford one or not. The appeal of the Vincent, and the Black Shadow in particular, lay in its ability to out-perform just about every other vehicle on the road, and in the early post-war years there was nothing to compare with it. This was a time when the average family sedan was barely capable of reaching 70mph, and not until the advent of Jaguar's XK120 was there a production sports car that could live with the thundering v-twins from Stevenage. With a top speed approaching 120mph and bettering it in the Black Shadow's case, the Vincent v-twin was quite simply the fastest road vehicle of its day.

The example offered here consists of an engine that originally formed part of a Rapide despatched to Whittaker in Blackpool in February 1951, while the upper frame member is from a Comet that went to Reynolds in Liverpool in October 1949. (Registration number 'KKF 572' almost certainly belonged to the latter, 'KF' being a Liverpool mark). The Vincent has been in the lady vendor's family's possession since her father purchased it in October 1967, and since 1992 has been registered in her name. Last run circa 20 years ago, the machine is offered for restoration and sold strictly as viewed. Obvious modifications include black-finished engine castings, Black Shadow brake drums, Lightning brake plates and a '150mph' speedometer. Offered with Swansea V5.