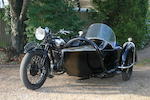 1938 Brough Superior 982cc SS80 Motorcycle Combination
Registration no. EYH 750
Frame no. M8/2013
Engine no. 4714
Introduced in 1922, the SS80 (so-called because of its guaranteed 80mph top speed in road trim) achieved instant fame when a stripped-for-racing version ridden by George Brough became the first sidevalve-engined machine to lap Brooklands at over 100mph. Brough entered the 1930s with an entirely JAP-powered range, and then, after a brief absence, the SS80 reappeared in 1935 as the SS80 Special, this time with an engine built by Associated Motor Cycles. Similar to that of the Matchless Model X, the 982cc sidevalve v-twin incorporated Brough's preferred 'knife-and-fork' big-end bearing arrangement instead of the side-by-side connecting rods of the Matchless. The model continued to use the Plumstead-made engine until production ceased in 1939.

This is matching-numbers (registration/frame/engine) SS80 is one of five supplied (as a solo) to Scotland Yard in July 1938 and was delivered by Jack Browning, one of the works testers. They were numbered consecutively 'EYH 746' to 'EYH 750'. From around 1952 'EYH 750' was owned by Ken Matt and at that time was fitted with a Watsonian double adult sidecar. Apparently, the 1939 Brough Alpine Grand Sports sidecar was fitted in the late 1950s. The SS80 outfit was campaigned by Ken Matt and Mike Holben in the 1965 Lands End Trial, albeit with a different sidecar body on the petrol-tube chassis. Two accompanying photographs show the outfit competing in this event, and these featured in the Brough Superior Club's calendar for the month of April 2009. 'EYH 750' was subsequently sold to Mike Holben around 1977 and it is believed that the machine saw very little use thereafter prior to its acquisition by the current vendor in 2003, since when it has covered a little over 1,000 miles.

While in the vendor's possession the Brough has received new rear and sidecar tyres, knee grips, timing chain, Brough Club-sourced toolboxes, speedometer gear, fork spindles and a Club-sourced sidevalve camshaft with OHV profiles – a very worthwhile modification. In addition, the magdyno has been overhauled; the speedometer replaced with a correct, overhauled instrument; the rear brake shoes relined; the sidecar cross members replaced and springs refurbished with new parts as necessary; the horn overhauled; the rear hub rebuilt; and a 'fishtail' fitted to the exhaust. Described by the private vendor as in generally good condition, this well documented SS80 motorcycle combination is offered with BSOC copy works record card, a quantity of tax discs for the period 1948-1958, sundry maintenance invoices, current road fund license, Swansea V5C document and fresh MoT. The old home-made toolboxes are included in the sale.