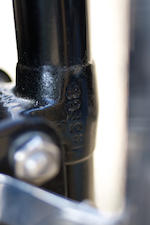 1937 Velocette 348cc KTS
Registration no. USL 685
Frame no. 3868
Engine no. 8129
The work of Percy Goodman, the Velocette Model K with its shaft-and-bevel drive to the upstairs cam was an ahead-of-its-time design that would prove extremely influential. The result of Goodman's technical innovation, combined with the firm's engineering excellence, was a superb high-performance motorcycle that established Veloce's sporting reputation almost overnight.

By the end of the 1920s Veloce's range of K-Series roadsters boasted a host of variations on the theme that included Normal, Sports, Super Sports, Touring, Economy and twin-port models. Introduced in 1925, the KSS was the Super Sports version while the KTS tourer employed the same overhead camshaft engine in virtually identical cycle parts, differences being confined mainly to mudguard style and wheel sizes. Introduced for the 1936 season, the MkII version of the KSS/KTS represented a major redesign, featuring many improvements including a new aluminium-alloy cylinder head with enclosed valve gear, plus the cradle frame and heavyweight Webb forks of the new MSS. In this form the KSS/KTS resumed production post-war in November 1946 before being updated, together with the other road models, with (optional) Dowty Oleomatic telescopic front forks in August 1947. Expensive to produce, Velocette's final cammy roadsters were dropped from the range at the year's end.

This MkII KTS features the alloy cylinder head with enclosed valve gear first seen at the 1935 Motor Cycle Show. Originally registered 'FBB 322', the KTS was acquired by the immediately preceding owner some 30-or-so years ago and fitted with a cylinder head rebuilt by Tiffens, the Carlisle Velocette agents. Thereafter the machine remained in storage until April 2002 when it was offered for sale at Bonhams' Stafford auction (Lot 497) and bought by the current vendor. Subsequently restored and presented in immaculate condition today, the machine comes with assorted magazine articles and technical literature; old-style buff logbook (issued 1946); DVLA correspondence and SORNs; expired MoT (June 2008); Swansea V5C document; and a vast quantity of restoration invoices, notes, photographs and related correspondence.
Saleroom notices
We are advised that this KTS has been converted to KSS specification using the latter model's larger wheels and sports mudguards.