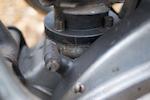 1938 Rudge 250 Rapid
Registration no. EOG 394
Frame no. 62505
Engine no. 11725
The Rudge 250 became a fixture in the range in the 1930s in models ranging from traditional twin-port to exotic radial-valve singles. In an era when a 'five-hundred' was considered to be large-capacity, many riders upheld the view that a 250 was cheaper to run and of more use for everyday and weekend riding on the poorly-surfaced roads of the period, but yet was definitely not a two-stroke lightweight. One of the company's final offerings was the 'Rapid', catalogued for 1938 at £55-0-0, a two-port, single-pipe tourer with both full 'guards and low-level exhaust as standard. EOG 394, listed by the VMCC, was first registered in late 1938. In careful storage for some time, it was described, by its late engineer owner, as being in good mechanical condition, though in need of smartening up. After seventy years there are some minor modifications apparent, but the machine is largely original and thought to be in running order. There is good support for the model from both Rudge and Vintage clubs. Last taxed in 2006, this example of the small and light 250 Rudge is complete both with a V5C for its Birmingham registration and other papers, and, following careful re-commissioning, should take to the road with minimal trouble.
Saleroom notices
The Engine Number is: 1725. In addition the V5, there is an Rf.60 Log-Book and history file.