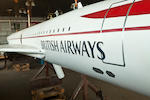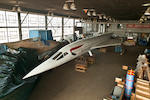 THE TIMES SQUARE CONCORDE MODEL.
Model of the Aérospatiale-BAC Concorde, 50% scale, manufactured by L&L Tooling of Texas. Painted fiberglass over a steel frame. Front and rear cabin doors marked with silver surrounds, sides of fuselage with British Airways name and swoosh, aft fuselage with registration number "G-BOAA," tail with BA's stylized Union Jack logo. Engine intakes with text "Danger / Do not use for / access when / hydraulic power is on," and behind, the text "Warning / Stand clear / hazard areas while / engine is burning." Cockpit and cabin windows of plexiglass. Various navigation lights near cockpit windows and at tail. Two interior access hatches on starboard side, at rear and over the wing. Three original mounting points under the fuselage and the engines. Several small sections of fiberglass have been cut away to provide access to the steel framework, in order to move and support the model; most retain covering plates. The tail is currently detached, as are the wing tips, being the outer 8 feet of each wing. It is believed that both simply bolt onto the main chassis. Approximately 102 feet long x 42 feet wing span, estimated weight 24,000 lbs.

One of the largest airplane models in the world, and famous from its tenancy in Times Square, New York from the fall of 1996 to the summer of 2001.
Concorde first took to the air in 1969, the product of a deal between the British and French governments and the manufacturers Aérospatiale and the British Aircraft Corporation—its name being French for "agreement" or "harmony." With its delta wing and turbojet engines, Concorde could hit Mach 2 and carry passengers between New York and London in under three hours—allowing west-bound travelers, as BA pointed out, to arrive before they left. The plane's speed caused the fuselage to heat up and expand, and it would stretch to almost a foot longer in flight. Its curious nose was the result of an engineering solution. The delta-wing configuration required a high nose angle during take off and landing, and with such a long pointed nose, the pilot's view would be dramatically obstructed. The solution was a "droop nose" that could be mechanically lowered by 12.5 degrees from horizontal.
Scheduled flights did not begin until January 1976, delayed by a number of factors including the 1973 Oil Crisis. Only Air France and British Airways purchased Concordes, heavily subsidized by their respective governments, although a few other airlines had brief arrangements to use their planes.
In 1996, BA commissioned the Texas firm L&L Tooling to build this model. They sculpted the shape of the airplane, made moulds, and from these moulds produced a fiberglass replica. The cost of the model is believed to been $980,000. It was transported to New York City on five trailers, and assembled in situ by a local sign company, four stories up atop of the Times Square Brewery on 42nd Street. With its BA livery, the model must rank as one of the most elaborate and expensive publicity devices in history. At night, it was lit from inside, with a glow visible through the cabin windows. The model was taken down in 2001, when the Brewery building made way for a tower block. Initially BA planned to reuse the Concorde model in a different site, but it ended up being transferred to the Cradle of Aviation Museum on Long Island, where it has remained, largely undisturbed, for the last decade.
A catastrophic crash in France in 2000 and the aftermath of September 11, 2001 chipped away at the already minimal profitability of Concorde, and in 2003 Air France and BA retired their entire fleet of the supersonic planes.
We can trace only one other official large Concorde model. That smaller, 40% scale model was displayed by BA on a traffic island in front of London's Heathrow Airport until 2007 when it was moved to Brooklands Museum near the BAC factories at Weybridge. A private aviation museum in Hermeskeil, near Trier, Germany, has a full-size wooden model of a pre-production Concorde that is used as the museum café; however, this is believed to be an "unofficial" replica. A further full-size wooden mock-up was displayed at the 1967 Paris Air Show, but was later destroyed by arsonists.

Please note that this model is being sold in situ, and is currently located in Garden City, New York. Interested parties who wish to view the model are invited to contact the specialist for this sale, Matthew Haley (+1 212 461 6531, matthew.haley@bonhams.com), to make arrangements. The successful buyer will be responsible for the timely disassembly if required, removal and shipping of this lot from its current location at buyer's expense by no later than July 5th.