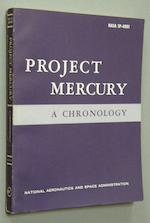 CHRONOLOGY OF MERCURY—SIGNED.
Project Mercury: A Chronology. NASA SP-4001. Washington: 1963. 238 pp. Illustrated. 10¼ x 8 inches. Original printed wrappers.

A chronology all significant events of the Mercury Program including pre-program events from the 1940s through 1963. SIGNED AND INSCRIBED: "Scott Carpenter – Aurora 7 / Gordon Cooper – Faith 7 / Wally Schirra E [sigma] 7" on the frontispiece which depicts the Mercury spacecraft with escape tower attached.