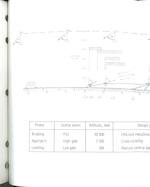 LUNAR TRAJECTORY NOTES FOR APOLLO 11.
Apollo 11 Lunar Trajectory Notes. MSC Internal Note No. 69-FM-209. Houston, TX: NASA/MSC, July 14, 1969. 168 pp. Many folding charts and plans. 10½ x 8 inches. Card stock covers, punched and stapled.

Signed on upper cover by BUZZ ALDRIN and MICHAEL COLLINS (with "Apollo XI"). This publication is designed "to provide the layman with some general information about the design of lunar trajectories and some specific information about the Apollo 11 mission."