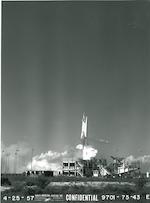 ROCKET-POWERED MISSILE LAUNCH EXPLOSION.
Series of 9 black and white photographs, 10 x 8 inches, published by North American Aviation's Photographic Department, in Downey, CA, April 25, 1957, dates, reference numbers and "Confidential" at foot of images.

The photographs record moment-by-moment the dramatic launch pad explosion of a NAA XSM-64, a rocket-powered supersonic missile designed to carry a nuclear warhead. The missile was a complete failure for NAA, with most of the launches being unsuccessful.