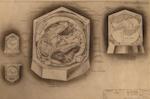 STRATO LAB AND SPACE SIMULATORS.
5 draftman's sketches for high-altitude manned ballooning capsules:
1. "Strato Lab High no. 5 gondola." May 30, 1961. 2 cutaway views and overall view, on black background. Strato Lab High V took place on May 4, using a rectangular open gondola in order to test the crew's pressure suits (which were the basis for the Mercury space suits). The flight reached 113,740 feet.
2. "Two man space simulator chamber." June 28, 1958. Simple cross-section sketches.
3. "Artist view of two man space simulator chamber." June 28, 1958. More accomplished isometric cutaway view. A design not so much for a moving simulator as perhaps for a capsule with closed cycle biological systems.
4. "Proposed high altitude balloon gondola and observation." June 8, 1961. 2 external views, overall view, and cutaway. Caption at lower right taped on. A pill-shaped capsule with external observation balcony.
5. "Artist drawing of proposed space laboratory." March 1, 1957. Various views of a pill-shaped gondola.
All pencil on tracing paper. Approximately 34 x 22 inches.