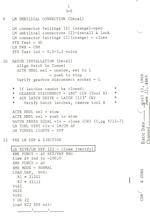 CREW-USED APOLLO 11 LAUNCH CHECKLIST TRAINING SHEET—DOCKING WITH EAGLE.
Apollo 11 Launch Operations Checklist, pp 3-5/3-6, a single sheet printed recto and verso. NASA/MSC, April 15, 1969, revised June 27, 1969, 8 x 5½ inches. With a Typed Letter Signed by Buzz Aldrin.

With BUZZ ALDRIN'S provenance letter which reads in part: "Accompanying this letter is a page numbered 3-5 and 3-6 from the CSM 107 (Apollo 11) Launch Operations Checklist, SKB32100080-306. The pages are part of the complete manual that was used in the Command Module Apollo Mission Simulator at the Manned Spacecraft Center in Houston, Texas. The page is from Section 3 titled: Normal SC/Booster Separations.
The entire checklist, including this actual page, was used by all three Apollo 11 crew members: Neil Armstrong, Michael Collins, and myself. This section was in constant use between the three of us because of the variety of activity required. Once Neil completed left seat activity for TLI, Mike moved to that seat to perform the flying task of docking and separation from the SIVB....
Side 3-5 has the last steps of CM/LM pressure equalization. We then removed the tunnel hatch and verified the docking latches performed their job correctly. Side 3-6 has the LM umbilical connection steps and the re-install of the hatch. Mike then prepared to separate the LM from the SIVB....
I have written on page 3-5: 'Used in training for Apollo XI' and signed that page."