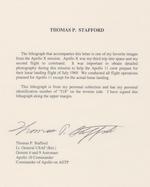 STAFFORD'S APOLLO 10 EARTH VIEW—SIGNED.
Color photolithograph, 10 x 8 inches, with text along the upper margin and on verso. A near full hemispheric view of the Earth as Apollo 10 travels to the Moon.

With THOMAS P. STAFFORD'S signed provenance letter, reading: "The lithograph that accompanies this letter is one of my favorite images from the Apollo X mission. Apollo X was my third trip into space and my second flight to command. It was important to obtain detailed photography during this mission to help the Apollo 11 crew prepare for their lunar landing flight of July 1969. We conducted all flight operations planned for Apollo 11 except for the actual lunar landing.
This lithograph is from my personal collection and has my personal identification number of '318' on the reverse side. I have signed this lithograph along the upper margin."