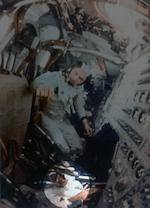 FLOWN APOLLO 8 WATER SYSTEM COMPONENT.
Casing assembly for the chlorine ampules used for disinfecting drinking water on board the command module, flown into lunar orbit. Milled alloy, cylindrical form, the outer parts anodized a pale green, printed reference numbers and inspection stamps, 3½ x 2 inches.

Drinking water on the Apollo command modules was supplied as a by-product of the fuel cells located in the service module. To keep the water safe, disinfectants were periodically added into the system. A chlorine solution, and a complementary pH neutralizer and corrosion inhibitor, were contained in cylindrical ampules that fitted into the present assembly. The astronauts inserted the ampules into the water tank, and within twenty minutes the water was safe to drink and palatable. Accompanied by a North American Rockwell parts removal tag identifying this component as coming from CM-103, the Apollo 8 command module. Together with a NASA photograph of the Apollo 8 crew during the mission, showing James Lovell holding the assembly.
Provenance: collection of Peter Fadis.