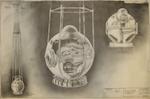 MAN HIGH, EXPLORER AND STRATO LAB.
5 draftman's sketches for high-altitude manned ballooning capsules:
1. "Artist drawing of Man High IV gondola." No date. Dramatic cutaway showing the capsule. Project Manhigh included only three missions; this drawing is, therefore, for an unrealized gondola.
2. "Artist view of Explorer III gondolas." January 20, 1956. Showing "standard gondola," "air-lock gondola" with 64-inch shoot, and configuration of the overall balloon. Two National Geographic-Army Air Corps Stratosphere Expeditions, Explorer I and II, took place in 1934 and 1935, the second reaching 72,000 feet. Explorer III never took place. Not to be confused with the 1958 satellite of the same name.
3. Untitled drawing, undated. Showing an unusual gondola shaped rather like an airplane cockpit.
4. "Proposed stratosphere research laboratory." February 24, 1959. Showing a multi-room octagonal torus-like gondola.
5. "Stratosphere gondola." January 27, 1955. 2 cutaway views.
All pencil on tracing paper. Approximately 34 x 22 inches.

The final sketch shows a gondola very similar to the Strato Lab capsule, which had its first manned pressurized flight on November 8, 1956, ascending to 76,000 feet.