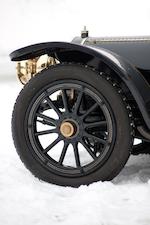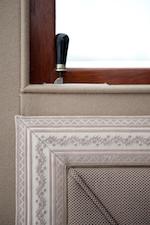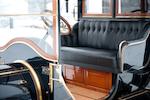 1911 Delaunay-Belleville 25hp HB6 Landaulette
Coachwork by Rothschild
Chassis no. 4148
Engine no. 4148V
Constructeur depuis 1904, Delaunay-Belleville était déjà une firme d'ingénierie respectée, vendant ses machines à vapeur entre autres à la Royal Navy. Dès les débuts, les automobiles de Delaunay-Belleville était de la plus haute qualité et en quelques années sa réputation en faisait l'égale de Daimler, Panhard et Rolls-Royce.
Cette Delaunay-Belleville 25 HP est propulsée par un six cylindres en deux blocs de trois de 4,5 litres intégrant le système de lubrification sous pression Delaunay et le carburateur réchauffé par eau. La boîte est une quatre rapports. Le châssis 4148 arbore une imposante carrosserie Landaulette Rotschild et fils de Levallois-Perret, aujourd'hui dans les Hauts-de-Seine, une compagnie qui fournissait des carrosseries de série pour Panhard et Levassor et Clément-Bayard, ainsi que des carrosseries à l'unité sur des châssis prestigieux.
La voiture fut découverte dans un état avancé, sans capot ni réservoir, instruments et carburateur manquant, l'essieu avant cassé et un radiateur modifié. La restauration débuta en 1982 et s'acheva 17 ans plus tard, en 1999, quand la Delaunay fut présenté au concours d'élégance de Het Loo et reçut un « best of class » sanctionné par 100 points. Les aspects les plus remarquables de cette magnifique voiture sont des phares et des feux de position Rothschild assortis, un jeu d'instruments de bord originaux, des roues démontables Michelin, deux pneus de secours, un tachymètre OS, une magnéto Bosch et des sièges d'appoint à l'arrière. Immatriculée en Hollande la voiture est livrée avec un important dossier photographique de la restauration, des factures diverses et des copies de catalogues.


Motor manufacturers from 1904, Delaunay-Belleville was already a well-respected engineering firm, selling its steam boilers to, among others, the Royal Navy. Right from the start, Delaunay-Belleville motor cars were of the finest quality and within a few years the firm had built a reputation that ranked it alongside Daimler, Panhard and Rolls-Royce.
This 25hp Delaunay-Belleville is powered by a 4.5-litre six, its cylinders arranged in two blocks of three, which incorporates Delaunay's pressurised lubrication system and water-heated carburettor. The gearbox is a four-speed unit. Chassis '4148' carries stately landaulette coachwork by J Rothschild et Fils, of Levallios-Perret, Seine, a company that supplied series-production bodies to Panhard-Levassor and Clément-Bayard as well as bespoke designs on more expensive chassis.
The car was discovered in dilapidated condition: minus its bonnet, fuel tank, instruments and carburettor, and with a broken front axle and modified radiator. Restoration commenced in 1982 and was finished 17 years later in 1999 when the Delaunay was presented at the Concours d'Élégance Paleis het Loo, receiving a 100-point, 'Best in Class' award. Noteworthy features of this magnificent car include matching headlamps and side lamps by Rothschild, a full set of original instruments, detachable wheels by Michelin, two spare tyres, speedometer and drive by OS, Bosch magneto and coil, and occasional seats in the rear. Netherlands registered, the car comes with a large quantity of restoration photographs, sundry invoices, chassis drawings and copies of catalogues.