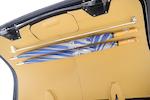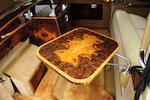 1992 Rolls-Royce Phantom VI Landaulette
Coachwork by Mulliner Park Ward
Chassis no. LWX 10422
Compagne d'autres Phantom dans cette collection, cette voiture d'une extrême rareté représente la forme définitive de ce genre de voiture, magnifique chant du cygne au terme d'une histoire commencée dans les années 1960, mais qui au milieu des années 1980 devait lutter pour respecter les règles d'homologation de plus en plus contraignantes mises en place au Royaume-Uni et ailleurs. Pire encore, pour une entreprise possédant une réputation et une histoire comme celles de Rolls-Royce, elle devait se battre pour disposer des pièces nécessaires à la production de la voiture qu'elle voulait, tandis que le prix de revient réel des dernières Phantom devenait prohibitif.

En 1985, la firme eut la licence pour produire la Phantom VI pendant encore cinq ans seulement bien que le volume de production à la fin de la décennie ne fût que trois voitures par an. Les toutes dernières voitures furent lancées en fabrication très opportunément fin 1989 et début 1990, l'assemblage et les finitions demandant encore 20 mois.

Il est admis qu'il s'agit là de la dernière Landaulette à conduite à gauche construite par Mulliner Park Ward qui rejoignit en Suisse son premier propriétaire. Il n'est pas étonnant que les fiches de fabrications de cette voiture soient particulièrement copieuses car elle représentait une sorte d'hommage au modèle et à la marque.

Contrairement à quelques-unes des plus sévères Phantom peintes en noir livrées ordinairement aux administrations et aux organismes gouvernementaux et royaux, cet hommage est peint en noir et jaune avec un intérieur clair fait de drap et de cuir crème.

Les spécifications comprennent un compartiment arrière équipé d'un toit en verre coulissant et décoré en noyer. Les panneaux des contre-portes portent marquetés en relief les portraits de Sir Henry Royce et de Charles Rolls, thème repris sur le ciel de toit où le drap habituel a été remplacé par un bas relief en bois représentant le Spirit of Ecstasy. L'assise arrière n'est pas équipée d'une banquette, mais de sièges individuels séparés par un large accoudoir contenant un miroir et un nécessaire de toilette Asprey. La séparation centrale contient un bar avec un compartiment pour un seau à glace, des verres et un shaker. Tout est protégé par un panneau en bois qui, une fois abaissé, forme table pour les passagers. On trouve aussi des tablettes à pique-nique avec miroirs, des strapontins repliables dont les dossiers sont ornés de placages de bois, un baromètre et une montre et des tablettes-écritoires avec des incrustations d'argent et des placages. Le coffre contient aussi un réfrigérateur. En résumé, cette voiture est particulièrement bien équipée et du meilleur goût. Son prix de vente fut de 398 127 livres et, lorsque ses spécifications furent complètement achevées, la voiture fut facturée au prix stupéfiant de 498 365 livres. Aucune autre automobile à l'époque ne pouvait atteindre ce prix.

Aux mains du vendeur depuis de nombreuses années, la voiture n'a cessé d'être préservée et entretenue alors que son kilométrage réel, symbolique, n'atteint pas 8 000 km.


A companion car to the other Phantoms in this collection, this extremely rare car represents the definitive form of these cars. It was a magnificent swansong to a story that had begun in the 1960s, but by the mid-1980s was struggling to meet the increased regulations in place that governed type approval of cars in the UK and elsewhere. Worse still for a company with such a hallowed reputation and history as Rolls-Royce, they were battling the availability of parts to use to produce the product that they wanted to and the actual cost of building the late Phantoms was becoming prohibitive.

In 1985, the company had its licence to build the Phantom VI for just five more years, although by the end of that decade production was now just three per year. The very last cars were laid down at the works in timed honoured fashion in late 1989 and early 1990, assembly and completion would take a further 20 months.

It is understood that this was the last left hand drive Landaulette to be built by Mulliner Park Ward, and it would find its first owner in Switzerland. Not surprisingly the build sheet records for the car are extensive, the car representing something of a tribute to the model and the marque.

Contrasting some of the more sombre liveried black Phantoms that had been the mainstay of the councils, governments and Royalty, this tribute is finished in Black over Primrose yellow, with a light interior of Savoy Cream fabric and leather.

The full specification comprises: a rear compartment equipped with sliding glass sunroof, and an internal walnut surround. The side door panels have detailed marquetry reliefs of Sir Henry Royce and Charles Rolls, and this theme is continued on the ceiling, where the normal headlining has been replaced by Spirit of Ecstasy relief in wood also. Each of the rear seats are individual, rather than a bench, and they have a large central dividing armrest which has a silver Asprey vanity kit and mirror. The central division has a cocktail cabinet, with the provision to hold a refrigerated ice bucket as well as cocktail glasses and a mixer bottle. These are all tucked behind a wooden door which when folded down forms a table for the passengers. In addition there are picnic tables with mirrors, jump seats with veneered backs, a barometer and a clock, and writing tables which have silver inlay and are also of veneer finish. There is even a fridge in the boot. In short, the car is exquisitely and tastefully appointed. The sum required to purchase it was £398,127, and by the time its detailed specifications were completed the car was invoiced at a staggering £498,365, no other cars in this period would have cost so much.

In the present ownership for a number of years, the car has continued to be maintained and preserved while its mileage has been nominal, just under 5,000 miles being covered from new.

The Phantom is quite possibly the most magnificent example of its breed and a fitting tribute to the company encompassing the techniques of taking luxury to its finest degree which had been honed over 30 years of their production.