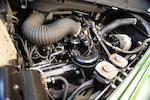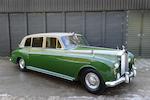 Voiture ayant appartenu à son Altesse royale Édouard, Duc de Kent, dans une livrée vert Harrods
1963 Rolls-Royce Phantom V Limousine
Coachwork by Park Ward
Chassis no. 5VA 23
Présenté à l'automne 1959, le tout nouveau V8 Rolls-Royce de 6230 cm3 équipait la Silver Cloud II et la Bentley S2, ainsi que la Rolls-Royce Phantom V. La limousine Phantom V à empattement long remplaçait en fait à la fois la Phantom IV et la Silver Wraith, le véhicule par excellence des têtes couronnées et des chefs d'état. L'empattement relativement court - pour une limousine - de cette dernière avait rendu la tâche impossible aux carrossiers de proposer un coffre digne de ce nom sur une automobile à sept places confortable, un défaut rédhibitoire relevé par la Phantom V. Construite sur un châssis largement modifié et renforcé de Silver Cloud II affichant le même empattement de 145 pouces (3,68 m) que la Phantom IV, la nouvelle Phantom mesurait 20 pieds de long (6 m) et autorisait enfin les carrossiers à associer la qualité de confort d'un habitacle spacieux avec un coffre généreux et des lignes élégantes. Un rapport final de pont un peu plus court, qui réduisait un brin la vitesse de pointe par rapport aux autres modèles, assurait cependant des accélérations du même niveau que les autres à la nouvelle Phantom. Le carrossier maison de Rolls-Royce, H J Mulliner Park Ward Ltd, habillait ce qui était le modèle de série de limousine à sept places de la Phantom V.
Cette Phantom a l'avantage d'avoir appartenu à la famille royale, ayant été la propriété de son Altesse royale Édouard, duc de Kent. Elle fut en son service et usage jusqu'en novembre 1966, temps durant lequel elle fut maintenue en bon état de fonctionnement par le Rolls-Royce Service Center de Londres. Dans leurs mains, elle reçut un nouveau moteur en 1989 et, juste avant d'être vendue, avait été restaurée, recevant notamment de nouveau ressorts de suspension arrière. Sous sa détention, la voiture était peinte dans une livrée noire Mason avec un intérieur de tissu et de cuir fauve qui comprenait une pendule Cartier sur la cloison de séparation et, naturellement, elle était équipée du petit feu obus bleu sur le toit, signalant son appartenance royale ainsi, bien sûr, que de quoi accrocher le Royal Standard, le drapeau royal. La voiture fut vendue aux enchères en 1996, acquise par son actuel propriétaire pour la même raison que la Phantom VI qu'il s'agissait d'un excellent exemplaire qui ferait une bonne voiture de service.
Au moment de son acquisition, elle fut repeinte dans une nouvelle couleur vert Harrods, avec un cannage sur les flancs, un toit en vinyl Ever-Flex fauve, conservant la royale lampe bleue et les faux compas sur les panneaux de custode. L'intérieur fut regarni en drap et cuir vert foncé à la même époque et doté des techniques de communication les plus en pointe de l'époque. L'ensemble, incroyablement somptueux avec son aspect technologique dernier cri combiné aux matériaux les plus raffinés, était un clin d'œil à des siècles de tradition de carrosserie.
Aujourd'hui, la voiture se présente toujours dans un état impeccable ayant été utilisée peu fréquemment du moins pas autant qu'initialement prévu. Une Phantom de la maisonnée royale avec un seul autre propriétaire depuis son origine mérite une attention très particulière.


Formerly owned by the H.R.H. Edward, Duke of Kent offered in Harrods Livery

Introduced in the autumn of 1959, Rolls-Royce's new 6,230cc all-alloy V8 engine powered the Silver Cloud II and Bentley S2 sedans as well as the Rolls-Royce Phantom V. The new Phantom V long-wheelbase limousine effectively replaced both the royalty/heads of state-only Phantom IV and the Silver Wraith. The latter's relatively short - for a limousine - wheelbase had made it all but impossible for coachbuilders to provide adequate boot space in a comfortable seven-seater automobile, a shortcoming addressed by the Phantom V. Built on a much-modified and strengthened 'Cloud II chassis enjoying the same 145" wheelbase as the IV, the new Phantom measured almost 20ft in length and enabled coachbuilders to combine the desirable qualities of spacious interior accommodation with generous boot space and graceful lines. A lower final drive ratio ensured that, while top speed was a little down on that of its stablemates, though still in excess of 100mph, the new Phantom could all but match them for acceleration. Rolls-Royce's in-house coachbuilder H J Mulliner, Park Ward Ltd produced what was in effect the 'standard' seven-passenger limousine coachwork for the Phantom V.

This Phantom has the distinction of having been in the Royal household, being owned previously by H.R.H. Edward, Duke of Kent. It was in his use and service up until November 1996 during which time it was kept in good order by the Rolls-Royce London Service Centre. In their hands it had received a new engine in 1989 and just prior to its being sold it had undergone extensive restoration work, including new rear springs. While in his custody, the car was in Mason's Black livery with a fawn leather and cloth interior, which included a Cartier clock on its division, naturally it carried the blue bullet lamp in the centre of its roof signifying its Royal ownership, and had provision for the Royal Standard. The car was sold at public auction in 1996, being acquired by the current owners for the same rationale as for the Phantom VI in that it was an extremely good example and hence a fine basis for future use in service.

On acquisition it was also comprehensively refurbished with new Harrods Green paintwork, faux basket weave to the sides of the car, a fawn ever-flex roof, retaining the Royal blue light, and dummy pram irons on the rear quarters. The interior was re-worked at the same time with dark green leather and cloth and updated with then current communications technology. The specification was incredibly lavish and generally an up-to-date technical aspect combined with cosmetics that gave a general nod to the centuries old coach-building customs.

Today, the car remains in immaculate order having been used infrequently and not as much as was originally intended. A former Royal household Phantom, with just one further owner from new, this car is deserving of close inspection.