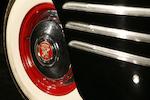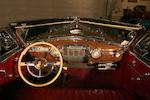 1941 Cadillac Series 62 Convertible
Chassis no. 8349253
Fondée par Henry Leland et Robert Faulconer, la Cadillac Automobile Company construisit sa première automobile en octobre 1902, la qualité supérieure de ses techniques de construction la plaçant d'emblée au sommet de la hiérarchie des constructeurs américains de haut de gamme. Toujours innovant en matière de technique, Cadillac continue de produire des voitures reconnues partout comme des symboles de richesse et de prestige.
Au cours des années 1930, il semblait que chaque année était un nouveau jalon dans le développement de la gamme des Cadillac à moteur V8, qui à la fin de la décennie s'était réduite au seul 346 ci (un 5,7 litres de 150 cv), les coûteuses V12 et V16, carrossées à l'unité, ayant été abandonnées. Les très beaux modèles Projectile et Torpedo de la Series 62, construites par Fisher, étaient apparues au millésime 1940 et arboraient un avant redessiné pour l'année-modèle 1941, inaugurant un style qui allait durer plusieurs années.
Datant de la dernière année-modèle pleine avant l'entrée en guerre des États-Unis, ce luxueux cabriolet n'a eu que trois propriétaires depuis son origine et fut acquise par le vendeur en 2009. Livrée neuve aux États-Unis et certifiée sans accidents, la voiture avait été complètement restaurée à l'état concours par son précédent propriétaire et, depuis son arrivée en France, le mécanicien du vendeur l'a régulièrement fait tourner et inspecter.


Founded by Henry Leland and Robert Faulconer, the Cadillac Automobile Company completed its first car in October 1902, the firm's superior precision manufacturing technology soon establishing it as the foremost builder of quality cars in the USA. Always innovators in automobile technology, Cadillac continues to produce cars recognised everywhere as symbols of wealth and prestige.
During the 1930s it seemed that almost every year marked a landmark advance in the development of Cadillac's long-running V8, which by the decade's end had been rationalised to a single 346ci (5.7-litre, 150bhp) variant, the expensive V12 and V16-engined coachbuilt models having been dropped. The Series 62's beautiful Fisher-built 'Projectile' or 'Torpedo' bodies had first appeared on the 1940 range and featured a revised front-end treatment for '41, establishing a pattern that would last for several years.
Dating from the last full year of automobile production before the USA entered WW2, this luxurious Series 62 convertible has had only three owners from new and was purchased by the current vendor in 2009. Delivered new in the USA and reportedly accident free, the car had been fully restored to concours condition by the previous owner and since its arrival in France has been started and checked by the current vendor's mechanic. This beautiful soft-top Cadillac is offered with owner's handbook, State of Florida Notice of Sale (2008) and French Carte Grise.