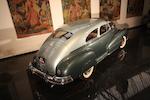 1948 Pontiac Torpedo 'Silver Streak' Coupe
Chassis no. P8PA10015
Comme la plupart des autres constructeurs américains, Pontiac reprit les constructions civiles en 1946 avec un catalogue essentiellement constituée de modèles 1942. Deux gammes étaient proposées, Torpedo et Streamliner, toutes deux équipées de moteurs six ou huit cylindres, ces dernières étant les plus imposantes et les plus chères. Les Pontiac de cette époque sont souvent surnommées Silver Streak en raison de leur multiples joncs chromés sur le capot. Ce trait stylistique avait été inauguré au milieu des années trente, mais le nom de Silver Streak ne devait pas apparaître avant l'année-modèle 1948.
Le coupé Torpedo qui est proposé est propulsé par un 8 cylindres 248.9 ci (4 080 cm3) délivrant 104 cv dans sa version de base ou 106cv avec la culasse haute compression offerte en option. Six types de carrosserie différents étaient proposés sur le châssis huit cylindres de 119 pouces (3 m) d'empattement en 1948, le cabriolet deux portes étant le plus coûteux à 1 982 dollars. La Pontiac était précédemment la propriété de M. W B Killingsworth de Farmington, Missouri (à compter du 30 avril 2003), et fut achetée par le vendeur il y a dix huit mois. Le précédent propriétaire avait entièrement fait restaurer la voiture sur une période de deux ans pour plus de 15 000 dollars, faisant, entre autres, passer de voltage de 6 à 12 volts. Depuis son achat par le vendeur, les freins ont été refaits et la voiture méticuleusement entretenue. Cet exemplaire particulièrement évocateur d'américaine typique est offert en plaques du Missouri avec des papiers et une carte grise française.


Like almost every other American motor manufacturer, Pontiac recommenced civilian production in 1946 with what were essentially 1942 models. Two ranges were offered, Torpedo and Streamliner, both of which were available with six- or eight-cylinder engines, the latter being the larger and more expensive. Pontiacs of this period are often referred to by the 'Silver Streak' name, a reference to their multiple chromed hood strips. This styling device was first introduced in the mid-1930s but the 'Silver Streak' name would not actually appear on a Pontiac until the 1948 range was announced.
The Torpedo coupe we offer is powered by the 248.9ci (4,080cc) eight-cylinder unit that produced 104bhp in standard trim or 106 horsepower with the optional high-compression cylinder head. Six different body styles were available on the Torpedo eight-cylinder 119"-wheelbase chassis in 1948, the two-door convertible being the most expensive at $1,982. The Pontiac was previously owned by Mr W B Killingsworth, of Farmington, Missouri (from 30th April 2003) and was purchased by the current vendor 18 months ago. The previous owner had the car fully restored over a two-year period at a cost of $15,000 dollars, including converting the electrical system from 6-volt to 12-volt. Since acquisition by the current vendor, the brakes have been overhauled and the car has continued to be meticulously maintained. This wonderfully evocative example of classic Americana is offered with Missouri registration papers and French Carte Grise.