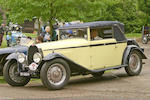 En provenance de la succession de Fitzroy Somerset 5ème Baron Raglan Protecteur et ancien Président du Bugatti Owners' Club
1930 Bugatti Type 46 Cabriolet
Coachwork by Figoni
Registration no. SV 6684 (UK)
Chassis no. 46331
Engine no. 199
Le chef-d'œuvre de Bugatti pour 1929 ne fut pas une voiture de Grand Prix, mais un sensationnel et luxueux châssis à moteur huit cylindres de 5,3 litres conçu pour recevoir les carrosseries les plus somptueuses et les mieux équipées et pour offrir la conduite la plus souple et le meilleur comportement routier possibles. Il s'agissait du Type 46 qui fut vite surnommé « La Petite Royale ». Non pas qu'il fut véritablement « petit » avec son moteur de 5 359 cm3 et son généreux châssis pesant 1 150 kg. Mais cette voiture présentait de grandes similitudes avec la puissante Royale dont une boîte de vitesse à trois rapports intégrée au pont arrière et la course longue (130 mm) des dernières Royale. La Type 46 se situe incontestablement parmi les Bugatti les plus grandes et elle se révèle d'une souplesse impressionnante sur le rapport supérieur. À l'époque de la crise mondiale, elle répondit à une demande réelle bien qu'elle dût affronter sur un marché limité une concurrence nommée Hispano-Suiza, Isotta-Fraschini, Rolls-Royce et Cadillac. Néanmoins, la marque Bugatti était dans une classe à part sans doute en raison de l'engagement personnel d'Ettore Bugatti dans la conception et la fabrication et de la reconnaissance internationale de la créativité de la famille Bugatti dans de nombreux domaines – sans oublier bien entendu les victoires de la marque en compétition.

Commentant le nouveau modèle en 1930, le magazine britannique The Motor écrivit : « Elle réunit le luxe d'une grande limousine, la souplesse et le comportement en prise directe d'un coupé de ville bien né à une tenue de route parfaite, à la vitesse et aux accélérations des meilleures voitures de sport. »

46331 fut livrée en châssis le 17 mai 1930 au Garage Mondan & Wilson à Paris pour son premier propriétaire, le Parisien Georges Combe qui, à l'évidence, avait compris ses extraordinaires spécificités. Il devait commander une caisse deux portes quatre places à Figoni, carrossier par excellence dont les conceptions et le savoir-faire complétaient la créativité de Bugatti. Combe conduisit cette élégante voiture dans la capitale et au cours de voyages familiaux dans les Pyrénées, la conservant en service régulier jusqu'en 1939 avant qu'elle ne soit démontée et cachée pendant la guerre. En 1948, la voiture fut sortie de sa cachette, réassemblée et munie d'une carrosserie break (voir photo) en vue de participer au Rallye Alger–Le Cap 1951. A cette occasion, de nombreuses modifications furent introduites dont le détail figure au dossier. Les circonstances voulurent que 46331 échappe à cette aventure plutôt risquée. Combe conserva la voiture jusque dans les années 1960 et son nouveau propriétaire entama une campagne de reconstruction de la voiture dans son état d'origine après avoir racheté à Combe la caisse Figoni.

46331 trouva un meilleur refuge en 1996, date de son acquisition par le passionné de Bugatti qu'était Lord Raglan. Une fois de plus, la voiture fit l'objet d'une restauration bien documentée grâce à l'intervention, entre autres, des réputés spécialistes de la marque Ivan Dutton et John Merryfield. Les acheteurs potentiels sont invités à examiner le très complet dossier qui l'accompagne afin d'apprécier pleinement l'ensemble du travail de restauration effectué et le soin apporté par Lord Raglan aux plus petits détails. Cette Bugatti est maintenant offerte en très bon état général et de fonctionnement et elle a passé le contrôle technique du MoT en octobre dernier.

46331 qui possède une histoire continue fascinante et bien documentée, très connue dans les cercles Bugatti internationaux, a été reconnue par Lord Raglan et le reste du monde comme une des plus grandes automobiles de l'histoire.


From the estate of Fitzroy Somerset, 5th Baron Raglan, Patron and Past Chairman of the Bugatti Owners' Club, Trustee of the Bugatti Trust

Bugatti's masterpiece for 1929 was not a Grand Prix racing car but a sensational eight cylinder, 5.3-litre engined luxury car chassis, designed to take the finest and most sumptuously equipped coachwork, providing the ultimate in flexible motoring with exceptional road manners. This was the Type 46 that earned the sobriquet 'La Petite Royale'. Not that there was much petite about the 5,359cc engine or substantial chassis which weighed some 1,150kg. However the car shared many similarities with the mighty Royale, including the three speed gearbox in the rear axle and the long (130mm) stroke of the later Royales. Of the larger Bugattis the Type 46 ranks most highly and offered impressive top gear flexibility. At a time of world recession it found a ready demand, despite competing in a reduced market place with the likes of manufacturers such as Hispano-Suiza, Isotta-Fraschini, Rolls-Royce and Cadillac. Somehow the Bugatti marque stood in a class of its own, perhaps because of Ettore Bugatti's personal involvement in design and manufacture and the internationally recognised genius of the Bugatti family in so many spheres – and in no small way because of the marque's successes on the racing circuit.

Writing of the new model in 1930 the English magazine The Motor reported: It combines the luxury of a large limousine, the flexibility and top gear performance of a thoroughbred town carriage with the perfect road holding, the speed and acceleration of the best type of sports model.

46331 was delivered as a chassis in 17th May 1930 to Garage Mondan & Wilson in Paris for its first owner, Parisian Georges Combe, who clearly recognised its outstanding specification. He was to commission two-door four-seat coachwork by Figoni – the design and craftsmanship from this carrossiere- par-excellence complementing the genius of Bugatti. Combe was to drive his elegant new car actively in the metropolis and on family trips to the Pyrenees, retaining it in regular use until 1939 when it was dismantled and hidden away during hostilities. In 1948 the car emerged from store, was re-assembled and a special estate car body was fitted (see photo) to enable 46331 to take part in the 1951 Alger-Le Cap Rallye – many other modifications being carried out at the same time, all recorded on file. A change in circumstances saw that 46331 did not suffer the indignity of participating in that event. Combe retained the car until the 1960's, its new owner then embarking on restoring it to original condition and specification, having acquired the Figoni body from Combe's store.

46331 found a still better home in 1996 when it was acquired by Bugatti aficionado Lord Raglan and once again the car was to be the subject of a well documented restoration using respected marque specialists including Ivan Dutton and John Merryfield amongst many others. Prospective buyers are advised to inspect the comprehensive file to appreciate fully the extent of the restoration and Lord Raglan's attention to fine detail. She is now presented in very good condition overall and in full working order have passed an MoT road worthiness test last October.

46331 is a car with a continuous, well documented and fascinating history – very well known in international Bugatti circles and a model recognised by the late Lord Raglan, and universally, as one of the World's Supercars.
Saleroom notices
Nous pouvons confirmer que Lord Raglan chargea le spécialiste Bugatti Tim Dutton de rajouter une quatrième vitesse - au lieu des trois vitesses d'origine - pour une meilleure souplesse. La marche arrière se trouve maintenant au dessus de la première vitesse. Nous pouvons aussi confirmer que les travaux de restauration de la carrosserie, de la peinture et de l'intérieur ont été réalisés par Mike Phillips de Magor, Pays de Galles. We can confirm that Lord Raglan commissioned Bugatti specialist Tim Dutton to add a fourth gear - instead of the standard three-speed - to the gearbox for greater flexibility. Reverse is now selected beyond first gear. We can also confirm that body, paint and interior restoration work was carried out by Mike Phillips of Magor, South Wales.