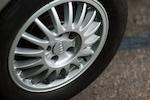 Un propriétaire depuis l'origine
1983 Audi Quattro Coupé
Chassis no. WAUZZZ85ZDA900803
One of the most influential designs of recent decades, the Audi Quattro brought four-wheel drive into the motoring mainstream. Introduced in 1980, the Quattro was based on the outwardly similar Coupé's bodyshell but used a different floorpan to accommodate its four-wheel-drive transmission and independent rear suspension. The engine was a development of the five-cylinder, 2.1-litre, single-overhead-camshaft unit first seen in the 200 saloon, equipped with a KKK turbocharger and producing 200bhp in road trim, considerably more being available in competition tune. Phenomenally fast and sure-footed on the road, the Quattro excelled in international rallying, winning the Manufacturers' Championship for Audi in 1982 and 1984 and the Driver's Championship in '83 and '84, but its enduring legacy would be the demonstration of four-wheel drive's advantages for passenger cars.
'Ur'Quattros are very rarely encountered in such good condition as this example, which was supplied new to Belgium via Garage Antoine and delivered to its first, and only, owner in Brussels where it was registered on 2nd May 1983. Benefiting from a full body restoration carried out by a marque specialist, the car has covered some 162,400 kilometres from new and is offered for sale fully serviced, including a change of timing belt. Finished in Zermatt Silver metallic with black leather interior, this 1980s motoring icon comes with Belgian registration papers, all instruction/service books and the original purchase invoice.


Parmi les concepts les plus influents de ces dernières décennies, l'Audi Quattro a introduit la transmission intégrale dans l'automobile de grande série. Présentée en 1980, la Quattro fut construite sur la base de la coque identique extérieurement du Coupé, mais avec un plancher modifié afin de recevoir une transmission à quatre roues motrices et une suspension arrière indépendante. Le moteur résultait d'un développement du cinq-cylindres 2,1 litres simple ACT apparu dans la berline Audi 200, équipé d'un turbocompresseur KKK et réglé à 200 ch en version routière, beaucoup plus en version compétition. Incroyablement rapide et dotée d'un comportement routier des plus sûrs, la Quattro excella en rallye international en remportant le Championnat du Monde Constructeurs en 1982 et 1984 et le Championnat Pilotes en 1983 et 1984. Mais son legs le plus important aura été de démontrer les avantages de la traction intégrale appliquée aux voitures de tourisme.

Il est rare de trouver une 'Ur Quattro' dans un état aussi bon que cet exemplaire vendu neuf en Belgique via le Garage Antoine et livré à son premier et seul propriétaire à Bruxelles où elle fut immatriculée le 2 mai 1983. Bénéficiant d'une totale restauration en carrosserie effectuée par un spécialiste de la marque, la voiture qui a parcouru quelque 162 400 km depuis sa sortie d'usine est proposée à la vente après un entretien complet y compris le changement de la courroie de distribution. Peinte en Zermatt Silber métallisé avec intérieur en cuir noir, cette machine emblématique des années 1980 possède ses papiers d'immatriculation en Belgique, ses manuels d'utilisation et livret d'entretien et sa facture d'origine.