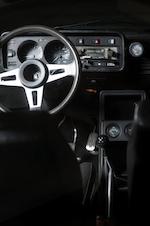 1977 Volkswagen Golf GTi Hatchback
Chassis no. 1773444852
Launched in 1974, the Golf represented a complete break with Volkswagen tradition yet would prove as big a sales success as its Beetle predecessor. In GTi form the Golf has become one of the great icons of modern motoring, giving rise to an entirely new class of sporting saloon - the 'hot hatch' - in the process. First seen at the Frankfurt Show in September 1975, the GTi came with a 1.6-litre, fuel-injected, 110bhp engine which, in a car weighing a mere 846 kilos (1,861lbs) made for a performance package of a type not seen since the demise of the Mini Cooper 1275 S. Increasing competition from rival manufacturers prompted the introduction of a 1.8-litre GTi in 1982, and although maximum power increased only slightly to 114bhp there was a considerable improvement in mid-range acceleration. The Golf emerged in restyled Mk2 form for 1984 and the GTi gained an alternative engine the following year when a 1.8-litre, 139bhp, 16-valve unit becoming available alongside the existing 8-valver.
A rare survivor of the iconic Golf GTi in its earliest, purest form, this example of one of the most collectible of 1970s classics has the small rear lights and steel bumpers characteristic of 1st series models. The vendor advises us that the body has been completely restored by a Volkswagen workshop and is in impeccable condition, and that the car has been well maintained mechanically. Offered with Belgian registration papers. A rare opportunity to acquire an extremely sought after 'Youngtimer'.


Lancée en 1974, la Golf qui représenta une rupture totale avec la tradition Volkswagen allait connaître une phénoménale réussite commerciale comparable à celle de son ancêtre, la Coccinelle. Dans sa version GTi, la Golf est devenue un modèle emblématique de l'automobilisme moderne en donnant le jour à une toute nouvelle catégorie de petite berline bicorps sportive à haute performance. Dévoilée au Salon de Francfort de septembre 1975, la GTi était équipée d'un moteur 1,6 litre à injection de 110 ch qui, dans une voiture pesant seulement 846 kg, en faisait une voiture performante d'un genre qu'on n'avait pas revu depuis la disparition de la Mini Cooper 1275 S. Sous la pression de la concurrence croissante des autres constructeurs, Volkswagen présenta la GTi 1,8 litre en 1982 dont le moteur, dont la puissance était pourtant limitée à 114 ch, améliorait considérablement les temps d'accélération à moyen régime. La Golf reparut sous sa forme retouchée Mk 2 en 1984 et la GTi gagna une motorisation optionnelle l'année suivante lorsqu'un groupe 1,8 litre à 16 soupapes fut proposé parallèlement au huit-soupapes.

Rare survivante de l'emblématique Golf GTi dans sa première et plus pure version, cet exemplaire est un des modèles classiques des années 1970 parmi les plus intéressants à conserver avec ses petits feux arrière et ses pare-chocs en acier caractéristiques de la Golf 1. Le vendeur nous a indiqué que la carrosserie totalement restaurée par un garage Volkswagen est en état impeccable et que la voiture a été très bien entretenue sur le plan mécanique. Offerte avec ses papiers belges, c'est une rare opportunité d'acquérir un modèle de la première série et digne d'être collectionné.