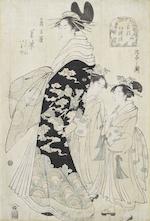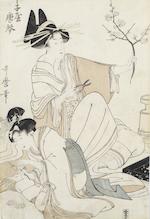 Chobunsai Eishi (1756-1829), Kitagawa Utamaro (1753-1806) and Kikukawa Eizan (1787-1867)
Late 18th/early 19th century
Comprising five oban bijin-ga prints: three by Eishi, the first depicting the courtesan Takigawa and two kamuro of Tama-ya, the second of Wakamurasaki of Kadotama-ya and her two kamuro, both depicted in the middle of oiran dochu (parade to escort their clients), the third, waka from the series Furyu Yatsushi Rikugei, all with censor's seal Kiwame, published by Nishimuraya Yohachi, two singed Eishi zu, one unsigned, the fourth by Utamaro depicting the courtesan Karaqoto of Choji-ya and her kamuro, publisher's seal unidentified, signed Utamaro hitsu, the last by Eizan depicting Karauta of Choji-ya , with censor's seal Kiwame and date seal, published by Iwatoya Kisaburo, signed Kikukawa Eizan hitsu. The smallest 35.5cm x 24.6cm (14in x 9¾in), the largest 37.7cm x 24.6cm (14 7/8in x 9¾in). (5).
Footnotes