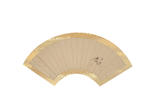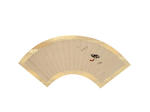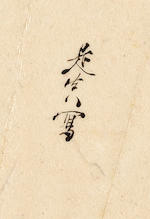 Two urushi (lacquer) fans paintings
By Shibata Zeshin (1807-1891), late Edo Period
Both mounted on gofun-treated paper set within a wood frame, one decorated with five butterflies, painted in kuroshibori-urushi, suki-urushi (transparent lacquer) and yellow lacquer, the wings of the black butterfly decorated with two shippo-mon and the white markings on its thorax rendered in the hikkaki (scratch) technique; signed in black lacquer Zeshin sha; the second decorated with a small shrub of Autumnal wind-swept chrysanthemums and grasses, signed in black lacquer Zeshin with seal Zeshin in red lacquer; with wood storage box, together with two certificates of authentication by Shoji Chikushin and copy of the mokuroku from Tokyo Bijutsu Club auction held in 1917. Both paintings approx. 15.5cm x 49cm (6 1/8in x 19¼in), the frames 43cm x 63cm (17in x 24¾in). (6).
Footnotes