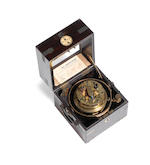 An historically interesting mid 19th century two day rosewood marine chronometer
John Poole chronometer, No 1086
The case with top lid removed over brass mounted sides and folding side handles, set to the centre section with a circular plaque bearing the Ordnance arrow and signed Poole/1086/Two Days, the lower section set with the lacquered brass locking nut and tipsy key, with shaped key escutcheon, the 3.5 inch signed silvered Roman dial with subsidiary dial for state of wind at XII over a subsidiary seconds dial, with blued steel hands, the spotted gilt movement with freesprung blued steel helical balance with diamond endstone and terminating in a heavy cut bimetallic balance with Poole's auxilliary compensation and Earnshaw type spring detent escapement, with maintaining power to the chain fusee The box 16cms (6.25ins) wide.
Footnotes
Saleroom notices
Please note that this Chronometer is numbered 1086 and not 1028 or 1083 as mentioned in error in the footnote. A thirty-seven page report entitled 'Determination of the Difference of Longitude between Rodriguez and Pamplemousses by the Transport of Chronometers' will be available during the view.