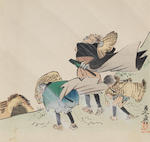 Shibata Zeshin (1807-1891) and others
Shijo style, late 19th century
An album mounted with fifty prints depicting different subjects including animals, birds, flowers, vegetables and figures engaged in seasonal activities, comprising four prints by Zeshin and the remainder by Kogyo, Koson, Yoshikuni, Koga and others, variously signed, some sheets unsigned. Each approx. 22.7cm x 23.5cm (9in x 9¼in).
Footnotes