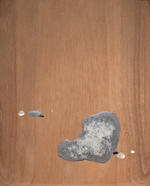 An important documentary inlaid shirokiri (white paulownia) wood tebako (cosmetic box) and cover
By Asahi Gyokuzan (1843-1923), dated 1912
Decorated on the outside with flowering chrysanthemums, arranged in a diagonal composition across the domed cover, with the design of a single stalk continuing down one side, the inside of the cover with one plover in flight, the en-suite, fitted, detachable tray with two plovers in flight, the inside of the box embellished with drops of water inlaid in mother-of-pearl among pebbles, each side also applied with a shell and ring handle, all variously inlaid in wood, mother-of-pearl, pewter and coloured horn, set against the natural unpolished grain of white paulownia wood; the rim of silvered-metal, signed with circular seal Gyokuzan; with double tomobako dated and signed by the artist Meiji yonju-go nen go-gatsu (May in Meiji 45 [1912]), Asahi Gyokuzan saku with seal Gyokuzan. 7cm x 29.5cm x 21.5cm (2¾in x 11 5/8in x 8½in). (4).
Footnotes