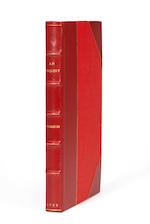 [THOMSON, CHARLES. 1729-1824.]
An Enquiry into the Causes of the Alienation of the Delaware and Shawanese Indians from the British Interest, and into the Measures taken for recovering their Friendship ... Together with the remarkable Journal of Christian Frederic Post... London: J. Wilkie, 1759.
184 pp. Folding engraved frontispiece map: A Map of the Province of Pennsylvania. Intended chiefly to Illustrate the Account of the Several Indian Purchases..., 197 x 263 mm, by Thomas Jeffreys. 8vo (217 x 125 mm). Modern red half morocco; uniform quarter morocco slipcase. Some browning, light marginal soiling, bound a bit tight, a few light spots and little offsetting to map, ownership inscription erased from title-page.

FIRST EDITION OF "ONE OF THE MOST IMPORTANT WORKS ON RELATIONS WITH THE INDIANS THAT HAD BEEN PUBLISHED UP TO THAT TIME" (Graff), PUBLISHED AT THE INSTIGATION OF BENJAMIN FRANKLIN. "One of the principal causes of the hostility of the Pennsylvania Indians, was the wicked craft practiced upon them by Governor Thomas Penn, and other proprietors in 1737. Certain chiefs having been called together by the speculators, two persons were found to testify that they were present at a council fifty years before, at which as much land was ceded to William Penn, as a man could walk around in a day and a half ... To locate as large a territory as possible, a trained pedestrian was employed, who was met at appointed stations by refreshments, and thus was enabled to traverse a route which cut off a million acres from the Indian territory. Less than one third that quantity of land was the amount which the Indians had been led to expect would be ceded. Endless conferences, and numerous councils, were followed by bloody massacres, that devastated the border settlements of Pennsylvania and Virginia, for twenty years" (Field). Charles Thomson, who was at this point an usher in a Quaker grammar-school in Philadelphia, had been selected by the Indians to record the Treaty of Easton in 1757. He was known to them as "The Man Who Tells the Truth" and in Revolutionary years became famous as the perpetual secretary of the Continental Congress. Church 1029; Field 1548; Graff 4139; Howes T210; Sabin 95562; Streeter sale 966; Vail 535.
Acquisition: Laird Park sale, Sotheby's New York, Nov 29, 2000, lot 349, $10,800.
Footnotes